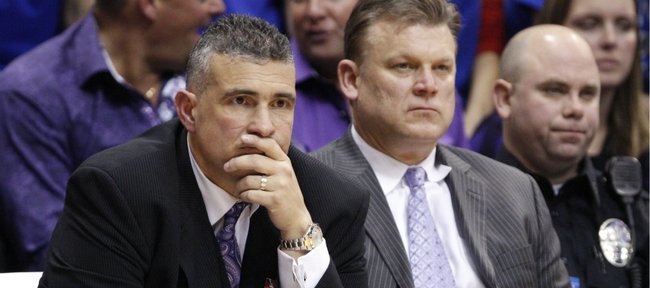 Only one double-digit seed (Xavier) survived the first week of the NCAA tournament, but that doesn't mean surprising developments didn't surface.
A look at five surprises that were much bigger than Kansas shooting 89 percent from the free-throw line two games into the tourney, that nobody could have seen coming:
Surprise No. 1 - Frank Martin's South Carolina Gamecocks, the gang that couldn't shoot straight and rode its rugged defense into the tournament field, suddenly became the most explosive second-half scoring team in the nation.
In the second half of victories against Marquette and Duke, the Gamecocks averaged 58.5 points and shot .625 from the field, compared to 32 points and .333 shooting in the two first halves. What's in the halftime water bottles?
The recent hot shooting has moved South Carolina into 310th among 351 Div. I schools with a .414 field-goal percentage for the season.
South Carolina had not won an NCAA tournament game since 1973. Martin, the former Kansas State coach, could face as many as three Big 12 schools if his team continues to survive and advance.
Baylor is next. If South Carolina and West Virginia make it to the Final Four, Martin and his K-State boss, Bob Huggins, would meet in the national semifinal, and if Martin won again, he might get a chance to face Kansas with a national-title on the line.
Oregon's Dana Altman joins Martin and Huggins as former Kansas State coaches in the Sweet 16.
Surprise No. 2 — Brad Underwood, so popular and successful in one season at Oklahoma State, bolted for Illinois one day after his Cowboys lost a thriller to Michigan, 92-91.
Underwood, who worked as an assistant to Huggins and Martin at Kansas State before leaving to head his own program at Stephen F. Austin, agreed to a six-year, $18 million deal with Illinois.
Unless someone offered to triple your salary as long as you agreed to move out of Stillwater and you turned it down, put that stone in your hand on the ground.
Underwood experienced an excruciating loss and exhilarating victory all in the span of 24 hours.
Surprise No. 3 - Vanderbilt's Matthew Fisher-Davis thought his team was behind by a point instead of ahead by one when he committed an intentional foul with 17 seconds remaining and the Commodores lost to Northwestern, 65-64.
Not surprisingly, Fisher-Davis' teammates and coach, Bryce Drew, March Madness hero of 19 years ago, rallied to support him. Fisher-Davis showed strength in fielding waves of questions about the brain cramp and in the long run will remembered more for the character he showed in dealing with the mistake than for the mistake itself.
Surprise No. 4 - The ACC has one team in the Sweet 16. How deliciously funny is that?
The Big Ten, Big 12, Pac 12 and SEC have three apiece. At 7-8, the ACC is the only of the power six basketball conferences to have a losing record. Records for the others: Pac 12 (8-1), Big 12 (8-3), Big Ten (8-4), SEC (7-2), Big East (5-5).
Surprise No. 5 - The Associated Press reports that Lynn Marshall, wife of Wichita State coach Gregg Marshall, was asked to leave the lower bowl of Bankers Life Fieldhouse for loudly cursing after the Shockers lost to Kentucky, 65-62. She reportedly later showed up at the post-game press conference and griped about the refs.
Lynn's anger was misplaced. She should have camped outside the NCAA offices in Indianapolis on Selection Sunday and blasted committee members the second they walked out the door.
In keeping Illinois State out of the field entirely and shafting the Shockers with a No. 10 seed, the elite power brokers don't even hide their disdain for the unwashed anymore. This was the second time in four years that Wichita State and Kentucky had to meet in the second round. Kentucky was under-seeded as an 8 in 2014, when Wichita State was undefeated and the Shockers should have been a No. 5 or No. 6 seed this season.
More like this story on KUsports.com