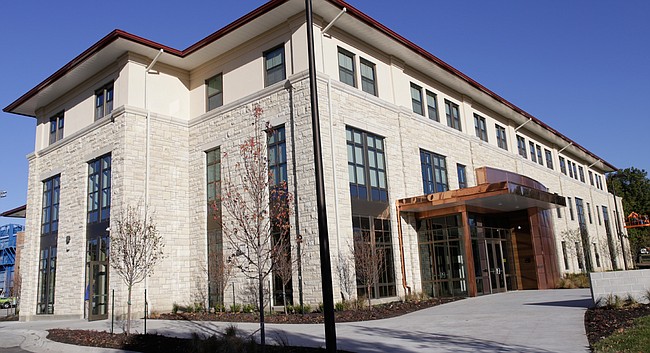 Three months after a 16-year-old girl was reportedly raped at the facility that houses the KU men's basketball team, the case remains under police investigation, with no new details being released.
"The investigation is ongoing," deputy chief James Anguiano of the KU Office of Public Safety said Monday.
Anguiano declined to answer additional questions, including whether police have identified anyone as a suspect, citing the open criminal investigation.
McCarthy Hall, 1741 Naismith Drive on the KU campus, is an all-male apartment building operated by KU Student Housing. The building houses about 40 students; roughly half KU men's basketball players and half upperclass, nontraditional or transfer students.
A 16-year-old girl was reportedly raped at McCarthy Hall between 10 p.m. Dec. 17 and 5 a.m. Dec. 18, according to the corresponding KU police report, dated Dec. 18. In addition to rape, the crimes of contributing to a child's misconduct and furnishing alcohol to a minor were reported and listed on the same police report.
Police have said the 16-year-old victim, who was not a KU student and not from this area, was visiting residents in the building.
Also the morning of Dec. 18, a runaway was reported at McCarthy Hall. Police have not confirmed whether the runaway and the alleged rape victim are the same person.
All five witnesses listed in the rape report are KU men's basketball players. The report indicates police contacted three other people in connection with the case: a KU Athletics administrator and two 19-year-old women. A sixth men's basketball player is named as a witness in the runaway report.
Police have not answered why any of those individuals were identified as witnesses.
However, police have explained that being a witness in an investigation does not necessarily mean an eyewitness to a crime, but rather someone that may have been in the area before or after, or have other pertinent information to the investigation.
Anguiano did not offer any estimate on when the case may be resolved.
The reported rape at McCarthy Hall is one of at least 10 sex crimes on or near the KU campus in the past few years. Timelines to resolve those cases vary, with some arrests made within a day and other cases going on for years. The Lawrence Police Department recently concluded a two-and-a-half year investigation into alleged sex crimes at a KU fraternity house. That investigation ended without charges being filed.
In the McCarthy Hall case, the Journal-World also requested, from Douglas County District Court, a copy of the search warrant executed at McCarthy Hall. Judge James McCabria denied the newspaper's request, writing in his order that the mental or emotional safety of witnesses could be jeopardized if the documents were made public.
Related stories
Have a tip or story idea?
---
More stories