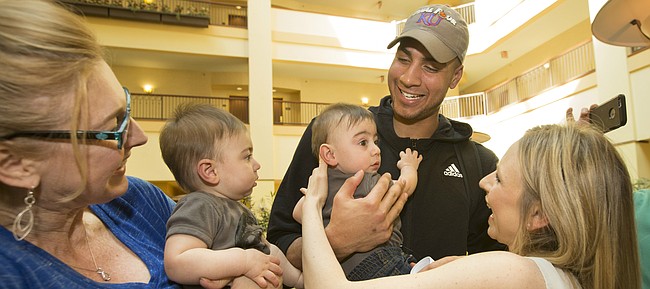 Tulsa, Okla. — Ten months after learning about the sly and sweet story of a set of twins being named in his honor, Kansas senior Landen Lucas got the chance to meet them Saturday in the lobby of the team hotel before the Jayhawks' practice.
Lifelong Kansas basketball fan Ian Sadler and his wife, Meredith, now live in Tulsa and found a way to take advantage of the good fortune of the top-seeded Jayhawks being sent to their new town for the first and second rounds of this year's NCAA Tournament so their 10-month-old boys could meet the 6-foot-10 Kansas forward.
Stopping by the lobby of the Renaissance Tulsa for a quick meet and greet on his way to practice in preparation for Sunday's 4:15 p.m. second-round game with No. 9 seed Michigan State, Landen Lucas, met the family, briefly held both boys and even signed two mini Kansas basketballs purchased by Lucas' mother, Shelley, to commemorate the encounter.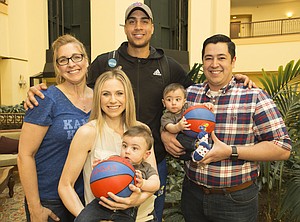 "It worked out perfect," said Lucas of the opportunity to meet his namesakes. "It's a great story."
Born two months early, both boys — and their parents — are doing incredibly well today and already have begun full baptism into the KU basketball culture. During Saturday's meeting with the KU big man, both boys were wearing Jayhawk socks given to them by family friends back in Lawrence.
The story of the names actually involved a little trickery from dad.
"When we found out we were pregnant, Meredith, a growing Jayhawk fan, knew where my thoughts were going," Ian told the Journal-World shortly after the boys were born last May. "She immediately told me I was not allowed to name our baby anything KU related, even though thoughts of Pierce, Tyrel, Jacque and other very suitable names quickly came to mind. Bill Self Sadler had a nice ring to it."
After he secretly decided on Landon and Lucas (they often call him Luke), with the different spelling to throw his wife off the scent, Meredith found out what was going on while watching a KU-West Virginia game on TV during the 2015-16 season. Already in love with the idea of the two names, Meredith decided to let it fly and the story of The Sadler Twins, Landon and Lucas, was under way.
Although the two new parents have their hands full with rapidly growing twins — in the early days they woke up as many as 17 times a night for a while to tend to the twins — a Twitter suggestion that they should do it all over again and name the next pair Frank and Mason brought smiles and laughs to the faces of those at Saturday's meeting.
The KU point guard is not the only current KU player the idea would work for, as Josh Jackson, Devonte' Graham, Dwight Coleby also easily could work.

"It's been such an awesome story and so much fun for us to experience," Ian said Saturday. "And getting the chance for the boys to meet Landen is something we'll remember for a long time."