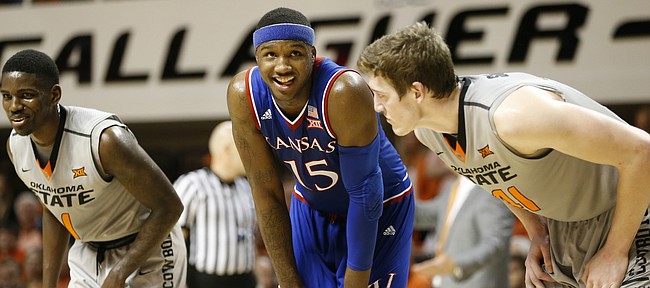 TULSA — Kansas sophomore forward Carlton Bragg Jr. produced six points and five rebounds in 13 minutes off the bench in Friday's 100-62, first-round NCAA tournament victory against UC Davis.
If he can produce in similar fashion against tougher competition on a consistent basis, that can only help Kansas to survive and advance.
"We've said it all year: Carlton's the X factor," teammate Josh Jackson said. "If you really look at our team, any time Carlton has a good game, we're going to win and we know it. He just has to keep his confidence level up a little bit and we have to find him a little bit more. I don't think we really look for him as much as we should."
Bragg, blessed with a better perimeter jumper than most 6-foot-10 players, has had to play mostly center this season out of necessity after a season-ending injury to freshman Udoka Azubuike. He has had his moments, but hasn't put together a consistent stretch of good games. For example, Bragg followed an 11-point effort in 18 minutes in a victory at Oklahoma State with a one-point game in a loss to TCU in the opening round of the Big 12 tournament.
"Coach (Bill Self) is a lot harder on Carlton than he is on a couple of other players because, like I said, we all know that he's basically the X factor," Jackson said. "We need him to do well on the team. Sometimes when coach gets on him, his confidence goes down a little bit, but I feel like he's doing a great job right now. I feel like (vs. Michigan State) he's going to have another great game."
Bragg had three offensive rebounds in the first-round victory.
"I love getting offensive rebounds, getting us extra possessions," Bragg said. "I feel good. I'm playing my role. It keeps coming. Just playing my role, doing the little things, offensive rebounding, blocking out, rotation, just a little bit of everything to bring us energy."
Bragg averages 5.6 points and 4.2 rebounds in 14.3 minutes.
More like this story on KUsports.com