Tulsa, Okla. — Sviatoslav Mykhailiuk had the ball in the left corner and the pro-Kansas crowd in his ears midway through the second half of Friday night's NCAA tournament opener for the Jayhawks.
"Three, two, one," most of the spectators in the BOK Center hollered in unison, their eyes nervously trained on the shot clock, their voices fueled by urgency. After all, Kansas was up by a mere 31 points with 11 minutes and change remaining in a game it would win, 100-62, against a UC Davis squad that plays so much closer to the ground.
In the eyes of the crowd, this was a big moment.
Svi busted a couple of nice dribble moves but remained tightly guarded when he elevated for the 3-pointer.
Swish. The audience erupted and the tension lifted.
The Svi three gave Kansas a 77-43 lead with 11:12 left, making it a nostalgic night for KU fans stressed out by all the exciting games they had to endure this season, compared to most years jammed with the blowouts that many seem to prefer.
Photo Gallery
Kansas Basketball v. UC Davis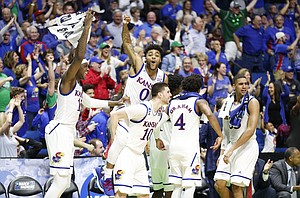 View a gallery of images from Friday's first-round game between the Jayhawks and Aggies at BOK Center in Tulsa.
The reaction to that shot paled in comparison to the response to the shot that fell through the net with 21 seconds remaining. Fifth-year walk-on Tyler Self's 3-pointer from the left wing elevated Kansas to the century mark and gave him a career-high five points. It also revealed a family secret: His sister Lauren is the one with the best hops in the family. From her seat several rows behind the Kansas bench, she got way up there with both arms raised.
Tyler's five points in three minutes must rank him among NCAA leaders in points per minute.
Is he getting shafted by the coach in terms of playing time?
"Yeah, totally," said coach Bill Self's son, who had been scoreless in three previous minutes. "No, it's cool to have had this opportunity to get in. The guys played well. I'm happy for Clay (Young) and Tucker (Vang) and Mitch (Lightfoot) also. Just getting to play in the NCAA tournament is a cool deal, something you can say you've done for the rest of your life."
Self the coach said, "To me, it doesn't matter if he makes the shot, but to see how the other people are so happy for him, his teammates, that's what makes it so great."
The crowd reaction called attention to just how much the night felt like a home game for the No. 1 seed in the Midwest.
Kansas needs to win three more games to reach Phoenix and each will be against an opponent far faster, taller, quicker and more skilled than the Aggies. The Jayhawks might not win the required three more, but if they don't, it won't be because they lack a home-court edge.
Kansas fans have known all year that the team would play in Tulsa and very likely would play in Kansas City, site of next week's Midwest regional. KU's Sunday opponent didn't know it was Tulsa-bound until Selection Sunday.
Much has been made of Iowa State playing well at its home away from home, the Sprint Center, where the Cyclones have won three of four Big 12 tournament titles.
But that line of thinking doesn't take into account that Iowa State fans didn't have the luxury of knowing returning to Kansas City was a possibility until Selection Sunday and won't know until late Saturday whether their team or Purdue will advance to the regional semifinals. KU also has a tough challenge in its way, but not quite the same challenge Iowa State faces.
Look for Kansas to have a vast majority of the crowd in its favor if the Jayhawks survive and advance to Kansas City. A partisan crowd, even in the NCAA tourney, can influence outcome with intangibles such as boosting the energy of its players and maybe even eating at the psyche of the referees.
But it's more than that. As demonstrated by Svi's shot that was released in time with the help of the crowd, the audience can impact the outcome in tangible ways as well.
"Yeah, yeah, I definitely heard it: 'Three, two, one.' I didn't see the shot clock. I just heard the crowd," Svi said. "It definitely helps because sometimes you don't see the shot clock."
He appreciated the audio aid.
"There were a lot of Jayhawk fans and they always travel with us," he said. "We have the best fans in the nation."
On this night, KU didn't need them to win. UC Davis did get a nice night from its best player, Chima Moneke (20 points, nine rebounds), but for 40 minutes the goggles he wore served as star-gazing aids. Every time he looked up he saw a shooting star falling out of the sky, cramming leather through iron and nylon.
Sparring sessions entertain Kansas crowds, but that was a one-time deal. Those one-sided shows give way to tough battles the rest of the way.
https://www.youtube.com/watch?v=dmlcskdqkdU
https://www.youtube.com/watch?v=BvOI1X5ks3k
https://www.youtube.com/watch?v=TKFUlu-C7jw
— See what people were saying about the game during KUsports.com's live coverage.
---
More news and notes from Kansas vs. UC Davis
---