Tulsa, Okla. — In the final 16 vs. 1 match-up of this year's NCAA Tournament, the UC Davis Aggies did all they could to hang around and compete with Kansas on Friday night at BOK Center.
From hustle plays and free throws to 3-pointers and tough defense early, the Aggies played Kansas nearly even for the game's first 13 minutes. But then the Jayhawks unleashed a barrage of plays, some believable, others not, that reminded everyone watching why KU spent most of the season ranked in the Top 5 and, perhaps more relevant today, why No. 1 seeds are undefeated all-time against No. 16 seeds in the Big Dance.
Guards win in March, but athletes won this one, 100-62, to move Kansas into Sunday's second round.
Not surprisingly, freshman guard Josh Jackson was responsible for a few of the highlight-reel moments that sparked KU's surge, pouring in 17 points on 8-of-12 shoooting and grabbing seven rebounds in 23 minutes during his first game back from a one-game suspension and the first time he was on the floor with his teammates for a game since March 4.
"We're an athletic team, we like to play fast and when we get to playing like that it makes the game a lot more fun and a lot easier," said Jackson, noting that Friday's victory was one of the more fun games of the season. "That's how we want to play."
Photo Gallery
Kansas Basketball v. UC Davis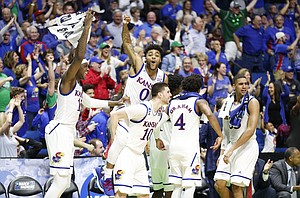 View a gallery of images from Friday's first-round game between the Jayhawks and Aggies at BOK Center in Tulsa.
The game's first we're-just-better-than-you moment came from Jackson, who went backdoor to catch a lob from Devonte' Graham to put Kansas up 21-15 with 10:07 to play in the first half. This, after Jackson and the Jayhawks (29-4) were ice cold to open the game and settled for open 3-pointers far too often early.
He wasn't done.
A few possessions later, Jackson broke a 21-all tie with the kind of reverse layup a billiards player would've been impressed by. That finish really got the Jayhawks' offense going and Kansas closed the half on a 29-7 run to take a 50-28 lead into the break.
It also was a favorite among Jackson's teammates.
"I think Josh's up and under was my favorite one," said Graham, agreeing that it looked a little like the famous play from former Philadelphia 76ers great Julius Erving. "Just a little bit. Not quite Dr. J. Just JJ."
Perhaps the most showy of all of Jackson's play-maker moments was a running scoop shot that put the Jayhawks up 31-21 and forced UC Davis to call timeout to stop the bleeding. As he strutted his way to the bench, Jackson flashed a replay of the circus shot before being mobbed on his way to the KU bench.
"Yeah, I just did it for my teammates," said Jackson while laughing. "I think the drive from the right side to the left and using my left hand on the scoop (was my favorite). I normally don't use my left hand as much so I was just a little impressed with myself on that one."
It wasn't just Jackson who out-athleted UC Davis in this one. Frank Mason III was his usual solid self, finishing with 22 points, five rebounds and eight assists in 31 minutes. But one of his most eye-opening plays came when he converted an elevator-style alley-oop of his own over Kansas native Siler Schneider on a pass from Graham, who added 16 points and four assists on 4-of-7 shooting from 3-point range.
"It's crazy, you know, how small he is and the things he can do on the court that big guys can't even do," Graham said of Mason. "For a 5-11 point guard, that's big time. I feel like everybody had fun and that was coach's emphasis, just go out, have fun and play."
KU coach Bill Self, who stressed that very thing for the past week, whole-heartedly agreed and explained that's why he left his regular rotation guys on the floor as long as he did.
"We needed to have some fun out there today," Self said. "So I wanted them to play as much as they could to enjoy it."
Before the first half was over, sophomore Lagerald Vick got in on the act, too, flushing a two-handed slam on another alley-oop pass from Mason to put Kansas up 41-23.
Remember, these were just the highlights. There were plenty more pocket-pickings, reverse layups, deep 3-pointers and physical finishes in close that accounted for the final score. But Friday's first-round run-away was as much about style as it was substance.
"We just wanted just to play our game, stick to the game plan," Graham said. "We were just playing. We were making shots, being aggressive on both ends of the court and we just happened to score 100."
Kansas shot 56.3 percent for the game, 44 percent from 3-point range and 85 percent (17-of-20) from the free throw line. The Jayhawks also out-rebounded UC Davis, 45-27, on the glass and limited the Aggies to 34 percent shooting, including a 4-of-20 clip from 3-point range.
For much of the season, critics questioned KU's killer instinct. But the Jayhawks had no problem flashing their teeth in this one. A 10-3 run to start the second half ended whatever faint hopes of a comeback the Aggies (23-13) had, and, like so much of the game before it, that run also featured a few future-NBA-draft-pick type of plays.
The first came on the very first possession of the second half, when Mason broke down the defense, drove into the heart of the paint and kicked to Jackson for an easy, two-handed hammer dunk. Five minutes later, Jackson jumped over everybody to clean up a missed 3-pointer by Vick, with his knees brushing the back of the UC Davis defender he soared over.
"I think we did a pretty good job the second half extending the lead," senior forward Landen Lucas, who tallied 13 points and 11 rebounds in 24 minutes. "We hadn't done that very well throughout the season, so it was good to kind of come out the second half and continue what we had started at the end of the first half."
https://www.youtube.com/watch?v=dmlcskdqkdU
https://www.youtube.com/watch?v=BvOI1X5ks3k
https://www.youtube.com/watch?v=TKFUlu-C7jw
— See what people were saying about the game during KUsports.com's live coverage.
---
More news and notes from Kansas vs. UC Davis
---