Tulsa, Okla. — On a night when the Kansas men's basketball team reached the century mark for just the second time this season, all anybody wanted to talk about was the Jayhawks' defense.
Using suffocating ball pressure, a dominant showing on the glass and the kind of effort you might expect from a team that laid an egg, defensively, in its last game out, the top-seeded Jayhawks rolled to a 100-62 victory over No. 16 seed UC Davis Friday night in the first round of the NCAA Tournament at BOK Center.
"We played the best defense that we've played all year tonight," said KU freshman Josh Jackson, who added seven rebounds, a block and a steal to his 17-point night. "I think it just shows us how important defense is because tonight really showed that defense will make offense a lot easier for us."
After losing in the Big 12 quarterfinals eight days earlier, against a TCU team that did not make the NCAA Tournament field, most of the public emphasis was on playing loose, free and having fun. Behind closed doors, however, the Jayhawks drilled defense, over and over until its importance fully registered.

"Defense was stressed since Day One, but definitely since we took that loss to TCU," said senior guard Frank Mason III, who, once again, led Kansas with 22 points, eight assist and five rebounds. "We just wanted to get out there and really practice hard and focus on the defensive end.... I just told the guys we gotta play every possession like it's tied and game point."
While all five starters reached double figures in scoring, it was the Jayhawks' defense that knocked the Aggies out. Few players took Mason's advice to heart like junior Devonte' Graham, who swiped four steals and helped set the tenacious defensive tone anytime anyone brought the ball near him.
"That whole week of practice that we had, the main focus that was defense," Jackson said.
Photo Gallery
Kansas Basketball v. UC Davis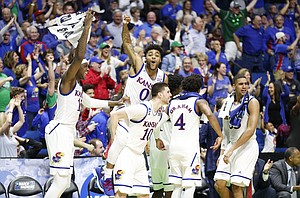 View a gallery of images from Friday's first-round game between the Jayhawks and Aggies at BOK Center in Tulsa.
No call before halftime
As the two teams left the floor after the halftime horn during Friday's KU victory, Self visited with an official who, he thought, missed a call when Graham was knocked down as KU attempted to set up the last shot in the final seconds.
"I just asked him, 'Why wasn't that a foul?,'" Self said after the game. "And he said, '(The defender) has the same right to the ball.' I said, 'In the NFL, a defensive back coach would've been happy with that play.' But he came and told me the second half that he missed it. I think he thought he got it right but he said he got swallowed up. He was too close to see it."
Good day at the office
After missing their first four 3-pointers of the night, the Jayhawks drained 11 of their next 21 shots from behind the arc and finished 11-of-25 for the game for 44 percent.
It marked KU's best 3-point shooting night since Feb. 27 vs. Oklahoma and also proved to be just what the doctor ordered for Svi Mykhailiuk (5-of-10 overall, 2-of-7 from 3-point range) and Graham (4-of-7, 4-of-7), who both had struggled with their shot during recent weeks.
"You always, as a shooter, want to see the ball go through the hoop and seeing it go through it just kind of gives you that momentum going into next game," Graham said. "Once one of us make a three, all of us get that same momentum and we kind of just flow."
Nice gesture
Although very few people in BOK Center cheered the UC Davis team when they took the floor at the start of Friday's game, the Aggies were escorted off the floor by a standing ovation and rousing cheer from the large KU crowd in Tulsa.
"Fans are great," Graham said. "We know they're gonna travel no matter where we are. We love the support and it was nice that we weren't too far from home."
The gesture was far from one-sided. After meeting with the media following the loss, UC Davis players Brynton Lemar (17 points, 2 rebounds) and Chima Moneke (20, 9) found themselves walking past the Kansas locker room. While Lemar marveled at the horde of media members surrounding Self in the hallway, Moneke stopped, tapped him on the shoulder and said simply, "Go win it all, coach."
This and that...
Friday's meeting marked the first ever between Kansas and UC Davis.... KU now has recorded 29 victories or more 14 times, with eight of those 14 29-win seasons coming under Self.... Kansas has won 11 consecutive NCAA Tournament opening-round games and is 32-2 in the Round of 64 since 1981.... KU is now 101-44 all-time in the NCAA Tournament and 31-12 in the Big Dance under Self.
https://www.youtube.com/watch?v=dmlcskdqkdU
https://www.youtube.com/watch?v=BvOI1X5ks3k
https://www.youtube.com/watch?v=TKFUlu-C7jw
— See what people were saying about the game during KUsports.com's live coverage.
---
More news and notes from Kansas vs. UC Davis
---