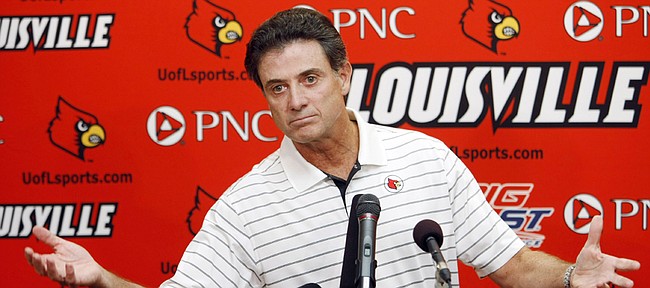 ESPN analyst Jay Bilas, a recovering trial lawyer who knows how to make convincing arguments whether standing on or near floors made of marble or hardwood, said it's best not to look at a given school's chances of winning the NCAA tournament as having to defeat every other team in the field of 68.
"Really, it's three four-team tournaments for each team," Bilas said. "You win one four-team tournament, go home and practice for a few days to prepare for another four-team tournament."
Rinse and repeat.
"The tournament's not about 68 teams," Bilas said. "It's about each team's specific path forward. It's not a golf tournament. This is not the Masters. You don't have to beat everybody. It's more like Wimbledon, where you just have to beat who's in your path."
A week before Selection Sunday, I selected 13 teams I think have a shot to win it all.
The offensive and defensive rankings and some other stats listed here are from kenpom.com, as they stood through the end of the regular season. Vegasinsider.com odds to win it all are also as they stood through the end of the regular season. Games decided by six or fewer points count as close games.
The contenders, listed in alphabetical order:
ARIZONA
Offense rank: 29

Defense rank: 27
Record in close games: 4-2
Vegasinsider.com odds: 14/1
Why Wildcats can win: They went 16-2 in the Pac-12, easily the most underrated conference in the country. The Pacific time zone gets blamed for the Pac-12 staying in the shadows but I'm beginning to wonder if Bill Walton's tendency to talk about anything but basketball during games might be a contributing factor. Finnish 7-footer Lauri Markkanen, son of former KU forward Pekka, shoots and passes like a guard and will be a lottery pick.
CINCINNATI
Offense rank: 42
Defense rank: 7
Record in close games: 5-2
Vegasinsider.com odds: 75/1
Why Bearcats can win: Mick Cronin's teams are known for their ability to make other teams play ugly because of their tough defense. That's still the case. It's just that they aren't playing as ugly themselves. The Bearcats play a slower tempo than most ranked teams, which can benefit the underdog later in later rounds.
GONZAGA
Offense rank: 7
Defense rank: 3
Record in close games: 2-0
Vegasinsider.com odds: 10/1
Why Zags can win: It's not as if the Zags haven't beaten good teams. They knocked off Florida, Iowa State, Arizona and Washington before conference play. They start two point guards in Nigel Williams-Goss and Josh Perkins and a behemoth who can play. Senior Przemek Karnowski, a 7-foot-1, 300-pound native of Poland, averages 12.3 points and 5.9 rebounds per game. Still, playing in so many blowouts might make them uptight when they play close games. If they bust, it might be time to think about joining the Big East. Bilas put it best: "These conferences aren't leagues anymore. They're media consortiums."
KANSAS
Offense rank: 5
Defense rank: 26
Record in close games: 11-2
Vegasinsider.com odds: 9/1
Why Jayhawks can win: They have more experience at winning close games than any team in the country and have a lot of tournament experience. Josh Jackson's defensive versatility enables Kansas to match up against a wide variety of styles. Plus, playing at the Sprint Center in Kansas City in the Midwest Regional helps. Frank Mason III has stayed fresh and is an incredible finisher and Jackson is playing with so much confidence and passing so well that Kansas will be a very tough out for any style opponent.
KENTUCKY
Offense rank: 14
Defense rank: 13
Record in close games: 4-4
Vegasinsider.com odds: 11/1
Why Wildcats can win: Malik Monk has had some outrageous games against good teams — 47 points vs. North Carolina, 37 vs. Georgia, 33 vs. Florida — and really knows how to hunt shots. He can score in so many ways. If Bam Adebayo can continue his recent emergence on the boards and De'Aaron Fox can limit turnovers — he had just one in each of the Wildcats' past two games — maybe talent can compensate for youth. That's a lot of "ifs," but what I'm saying is Kentucky has a chance.
LOUISVILLE
Offense rank: 24
Defense rank: 6
Record in close games: 6-2
Vegasinsider.com odds: 15/1
Why Cardinals can win: Rick Pitino is a terrific coach who has reached the Final Four at three schools (Providence, Kentucky and Louisville) and won national titles at the latter two. He knows how to prepare teams for quick-turnarounds. The Cardinals do a great job of defending in the paint and the perimeter and do a terrific job at keeping teams from getting away with fast breaks and have shown that if they have to win a game played at a fast pace, they have the scorers to do it. Shooting guard Donovon Mitchell knows how to create shots.
MICHIGAN
Offense rank: 6
Defense rank: 85
Record in close games: 5-6
Vegasinsider.com odds: 150/1
Why Wolverines can win: John Beilein, America's most underrated coach, knows how to coordinate the moving parts on offense to create high-percentage shots. The Wolverines finished Big Ten play by winning 6 of 8, a stretch that started with an 86-57 slaughter of Michigan State. Senior point guard Derrick Walton showed the nation how ready he is for the postseason by dropping 18 points and 16 assists on Nebraska in the regular-season finale, a 93-57 Michigan victory. No list such as this is any fun without including at least one long shot.
NORTH CAROLINA
Offense rank: 4
Defense rank: 23
Record in close games: 4-1
Vegasinsider.com odds: 13/2
Why Tar Heels can win: Size, tournament experience, speed, depth, shooting and underrated defense. This team has it all. Forward Justin Jackson has improved his 3-point touch and scoring point guard Joel Berry, who lit up Duke for 28 points in a regular-season finale, making 5 of 5 3-pointers, made 4 of 4 3-pointers in last April's three-point loss to Villanova in the national-title game.
OREGON
Offense rank: 22
Defense rank: 22
Record in close games: 7-2
Vegasinsider.com odds: 14/1
Why Ducks can win: Any team that can drill Arizona by 28 points can win it all. The Ducks started 2-2, but injured star Dillon Brooks missed the first three games recovering from foot surgery and didn't play much in the fourth. The Ducks won 27 of their final 29 regular-season games, performed well late in close games and start a pair of point guards in senior Dylan Ennis and freshman Payton Pritchard.
PURDUE
Offense rank: 20
Defene rank: 18
Record in close games: 6-2
Vegasinsider.com odds: 30/1
Why Boilermakers can win: Caleb Swanigan (18.7 points, 12.6 rebounds) knows how to use his 6-9, 250-pound frame to clean up on the boards and has a soft shooting touch down low and beyond the 3-point line, where he shoots .449. The Boilermakers' guards get better and better at feeding him. Fouling him doesn't work either because he shoots .792 from the line.
UCLA
Offense rank: 2
Defense rank: 87
Record in close games: 4-1
Vegasinsider.com odds: 8/1
Why Bruins can win: They have the most talent of any team in the country. Coach Steve Alford uses eight players and they all can really play. The Bruins are quick, fast, explosive. They have 3-point shooters: Lonzo Ball (.424), Aaron Holiday (.431), Bryce Alford (.454), T.J. Leaf (.462). They have shot-blockers: Ike Anigbogu (1.3 in 13.2 minutes off the bench) and Thomas Welsh (1.4), who also happens to be very skilled as a passer and scorer. UCLA is a nightmare for any team trying to play a low-scoring game. They don't play the best defense, but the blend of quickness and tournament adrenaline can change that.
VILLANOVA
Offense rank: 3
Defense rank: 16
Record in close games: 3-1
Vegasinsider.com odds: 17/2
Why Wildcats can win: Josh Hart, Jalen Brunson and Kris Jenkins, returning starters from the national title team, all are having big seasons and all have become household names. But nobody's talking about 6-foot-7 sophomore Mikal Bridges, a very athletic, skilled player, who knows how to get the ball to the open man, shoots 40 percent on 3-pointers and and is an even more versatile defender with a knack for jumping into passing lanes. The Wildcats don't have the shot-blocker they had a year ago, but they have everything else.
WEST VIRGINIA
Offense rank: 17
Defense rank: 5
Record in close games: 3-4
Vegasinsider.com odds: 32/1
Why Mountaineers can win: Their full-court pressure, even after missed shots, is applied in a way not quite done anywhere else, which makes playing them the first time during a season an unsettling experience. A stunning 28.1 percent of opponents' possessions end in turnovers. They also crash the offensive boards in a way that can demoralize opponents.
---
More from Selection Sunday
---
More like this story on KUsports.com