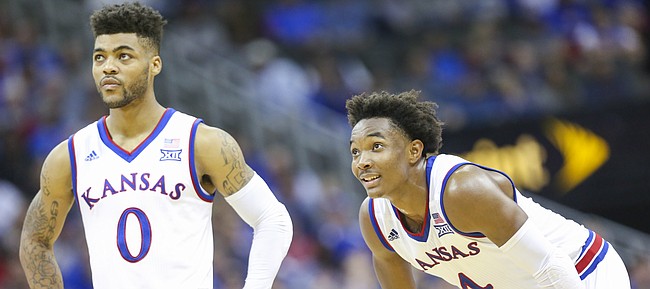 Searching for NCAA tournament patterns ranks high among futile activities because as soon as it seems one is emerging, it fades to black.
George Mason gets to the Final Four in 2006, so picking a Cinderella becomes fashionable. Then the next 12 teams to make it are eight No. 1 seeds and three No. 2 seeds and a No. 3 seed.
So everybody returned to picking chalk. So what happens? Butler plays in back-to-back title games and in the second year is joined by No. 11 seed VCU in a 2011 Final Four that didn't feature any No. 1 or No. 2 seeds.
It's trendy to try to find NCAA tournament trends, but they just don't hold up.
Even so, it's difficult to ignore an emerging formula for Final Four success: Start two point guards.
The past four NCAA tourney champions had a pair of point guards playing together, as did last season's national runner-up, North Carolina.
In 2013, Louisville won it with Russ Smith and Peyton Siva. Connecticut won it with Shabazz Napier and Ryan Boatright in 2014. Tyus Jones and Quinn Cook formed Duke's backcourt in 2015 and last season, Ryan Arcidiacono and Jalen Brunson shared ball-handling duties.
The past three winners of the Final Four Most Outstanding Player award: Napier, Jones and Arcidiacono.
Anybody else see a pattern emerging? Those backing Kansas (Devonte' Graham and Frank Mason), Gonzaga (Nigel Williams-Goss and Josh Perkins) or Oregon (Dylan Ennis and Payton Pritchard) hope the streak grows to five years in a row with the national champion using a point-guard tandem in the starting lineup.
"I don't know that it's necessarily a trend," ESPN analyst Jay Bilas said. "Having it is a nice thing, but it's not absolutely necessary because you've had teams that have won without that. You have to be able to do a number of different things. You have to have a point guard, but you also have to be able to score and defend in the post."
As does any well-trained attorney, Bilas enjoys challenging conventional wisdom, such as common talk about guard play being more important in March.
"I don't know about magnified in the postseason," Bilas said. "I think guard play is always important. I think everything's magnified in the postseason. People pay more attention. You have to have really good guards to win, but you know what, you also have to be able to score and defend in the post.
"If I could only have one, I'd choose good guard play. If I could only choose between the pilot and the maintenance crew, I'd choose the pilot. But sooner or later you're going to need the maintenance crew and if you don't have it, the pilot's not going to be able to do a damn thing about it."
On paper, the Kansas backcourt bears the strongest resemblance UConn's 2014 tandem of Shabazz Napier and Ryan Boatright among recent national champions.
Napier was a senior who led the Huskies in scoring (18.0) and assists (4.9) and was second in rebounding (5.8). Mason is a senior who leads the Jayhawks in scoring (20.5) is second and assists (5.1) and is third in rebounding (4.2).
Boatright was a junior who was third on his team in scoring (12.1) and second in assists (3.4). Graham is a junior who is third in scoring (13.2) and second in assists (4.3).
Combined, Napier and Boatright scored 41.9 percent of UConn's points, Mason and Graham 40.7 percent of KU's. Include each team's second-leading scorer, UConn's 6-9 DeAndre Daniels, KU's 6-8 Josh Jackson, and the Kansas trio accounts for 60.5 percent of the team's points, the Huskies' trio 60.2 percent.
Self doesn't need to look at recent Final Four outcomes to know the importance of his backcourt.
He recently hinted at the common belief that Mason settled the national-player-of-the-year debate with his regular-season finale at Oklahoma State. A couple of days later, he spoke to the importance of Graham.
"I think Devonte' has elevated his game in a lot of ways," Self said. "We just haven't seen it through points as much. I think he's playing well, the best ball he's played all year right now, in large part because I think he's playing both ends better."
Self pointed to the job Graham did guarding Oklahoma State's Phil Forte in Stillwater.
"He made two twos on him," Self said. "The other shots he made were off switches."
Graham and Mason have such good chemistry with each other that Graham knows when to take over primary ballhandling duties for a stretch from Mason to give him a semi-breather without the two even saying a word.
Both guards lead the break, as can Josh Jackson, which enables a team to play faster because the outlet passer doesn't have to search for just one receiver. Graham and Mason also can switch defensive assignments through the course of a game, another nice luxury.
If playig with two point guards hasn't reached the trend stage yet, Graham and Mason have a legitimate shot at making it happen by winning a national championship.
---
More from Selection Sunday
---
More like this story on KUsports.com