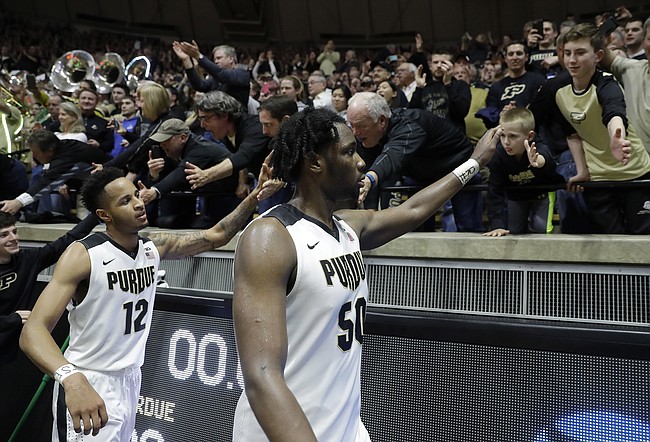 So many interesting angles popped off the page of the Midwest regional when the brackets came out on Selection Sunday.
Foremost is the potential Sweet 16 matchup between a pair of schools that consider the Sprint Center, site of the regional, their home away from home, Kansas and Iowa State, which has won three of the past four Big 12 tournaments in the building.
Ticket brokers are sitting on a gold mine, praying that both Big 12 schools advance to that Sweet 16 matchup. The Power & Light District buzzes when Iowa State and Kansas head on a collision course in the Big 12 tourney, an excitement that would triple with a ticket to the Elite Eight at stake.
Here's the best part: If the tickets are out of your price range, that means you get to listen to Kevin Harlan's call. It doesn't get any better than that. He brings viewers the excitement he feels court-side.
Those fascinated with coaches have to love the Midwest region, which features five coaches boasting a combined 18 Final Four appearances, three of whom pitch in a combined four national titles: Louisville's Rick Pitino (seven Final Fours, two national titles); Michigan State's Tom Izzo (seven Final Fours, one national title); Kansas' Bill Self (two Final Fours, one national title); Miami's Jim Larranaga (one Final Four, with George Mason) and Michigan's John Beilein (one Final Four).
Not even the South region — with Roy Williams (seven Final Fours), John Calipari (six), Bruce Weber and Gregg Marshall (one apiece) — has as much Final Four experience.
Bob Huggins (one with Cincinnati, one with West Virginia) is the lone Final Four coach in the West, and Duke's Mike Krzyzewski (12) and Villanova's Jay Wright (two) are the veterans in the East.
Yet, for all the coaches with Final Four experience, the school that just might amount to the toughest Midwest matchup for Kansas is coached by Matt Painter, who hasn't yet advanced beyond the Sweet 16. Barring upsets, Iowa State and Purdue will meet in the second round.
Purdue's size and inside strength make the Boilermakers a tough out for KU. Plus, Purdue ranks third among NCAA tourney teams with a .406 3-point shooting percentage.
Caleb Swanigan, a 6-foot-9, 250-pound forward who scores down low, shoots .431 from 3-point range, averages 18.5 points and 12.6 rebounds, has 26 double-doubles and has lost 100 pounds since eighth grade, makes for a tough matchup. Vince Edwards, a 6-8, 225-pound forward, averages 12.2 points and shoots .430 from long distance. The Boilermakers bring 7-2 Isaac Haas (12.8 points, 5.1 rebounds) off the bench.
Before worrying about playing the Boilermakers in front of a pro-Kansas crowd or the Cyclones in front of a crowd with a big pocket of cardinal-and-gold loyalists, Kansas must get out of Tulsa, where Miami or Michigan State will be sky-high for the opportunity to play with the house's money against the No. 1 seed.
Exciting possibilities await. For many, the berth itself was cause for celebration. For Kansas, tourney participant for a record 28 consecutive years, Selection Sunday means the excitement is days away.
"You take for granted sometimes if you know you're getting in, but you don't take for granted the rush," Kansas coach Bill Self said. "You don't take for granted being excited about the seed or matchups or who you're going to play."
---
More from Selection Sunday
---