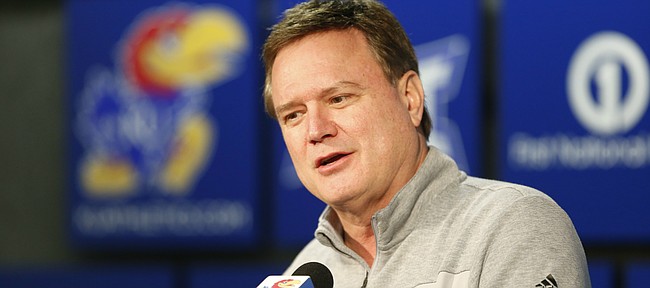 Within an hour of learning that Wake Forest had made the 2017 NCAA Tournament and would face Kansas State in a First Four match-up this week in Dayton, Ohio, to earn one of four No. 11 seeds in the 64-team bracket, Kansas coach Bill Self had already exchanged text messages with Wake head coach and former Self assistant Danny Manning.
Asked if the correspondence between Manning and him included any type of scouting report help for his old friend and one of the greatest players ever to play at KU, Self laughed and said the texts were complimentary in nature.
"We text back and forth, but not details," Self said. "'Congratulations' and 'I'm happy for you' and all those things. It's pretty remarkable.... Their staff has done a great job."
Manning and Wake Forest, which also features on its staff former KU player and assistant Brett Ballard and former KU standout Steve Woodberry, is one of three teams in this year's NCAA Tournament field to have direct ties to the Self coaching tree.
Joe Dooley and Florida Gulf Coast, which also features former Jayhawk Aaron Miles on staff, got in as a No. 14 seed in the West Region and Tim Jankovich and SMU got in as a No. 6 seed in the East.
"It's exciting to me," Self said. "Because I think all of those guys have a serious chance to advance."
Even more exciting is the fact that none of them are in KU's bracket.
Photo Gallery
NCAA Tournament 2017: 28 in a row and counting...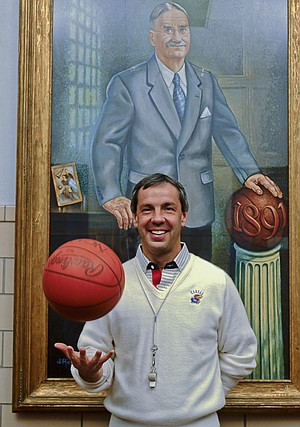 The Kansas University men's basketball team's 2017 trip to the NCAA Tournament will mark the 28th consecutive year that the Jayhawks have earned a spot in the Big Dance. That streak is the longest active streak in the country (and also the longest in NCAA history) and speaks to the incredible success and consistency enjoyed by head coaches Roy Williams and Bill Self during that time.
A model of consistency
KU's inclusion in this year's NCAA Tournament field — a No. 1 seed in the Midwest Region, KU will play a yet-to-be-determined opponent at 5:50 p.m. Friday in Tulsa, Okla. — marks the 28th consecutive season that the Jayhawks have qualified for the NCAA Tournament, moving Kansas out of a tie for the all-time record with North Carolina (1975-2001) and into first place all alone.
Self, who has led the Jayhawks to half of those appearances said it's the consistency of that streak that impresses him most.
"There's no guarantee you're ever going to play well, there's no guarantee you're for sure going to advance, there's no guarantees," Self said. "But it is nice to know that you're going to be in the game. And that's something this program's been able to do consistently for a long time. Well before me."
No live scouting
Asked Sunday if Kansas would have assistant coaches on the ground in Dayton, Ohio, to scout the Wednesday match-up between potential KU opponents North Carolina Central and UC Davis, Self first checked with KU officials and then revealed that all scouting for KU's first-round match-up will have to be done remotely.
"They don't allow you to do that any more," Self said. "They eliminated traveling to scout a couple years ago."
Graham OK
Junior Devonté Graham, who missed part of the first half of KU's Big 12 tourney loss to TCU last week, was able to practice fine during KU's unexpected break and enters preparation for this week's NCAA Tournament opener in good shape.
"He practiced yesterday and today," Self said of Graham's Saturday and Sunday availability. "Absolutely no problems. I can't comment if he's sore or not, but no limitations."
Perhaps the best sign about Graham making it through was the fact that Self said the two practices were as intense as the Jayhawks had experienced in at least a month.
"When the coach acts like a maniac, you probably try a little harder," he added.
Upcoming schedule
After a hard practice on Sunday, the Jayhawks will go light today and follow that up with another decent workout on Tuesday — "not too strenuous," according to Self — before getting back into the thick of things on Wednesday.
KU is slated to travel south to Tulsa Wednesday afternoon and will juggle media obligations and practices on Thursday before spending Friday morning putting the finishing touches on their preparations for the 5:50 p.m. tip-off.
This and that...
KU's upcoming run in the NCAA Tournament will mark the Jayhawks' 46th appearance in the Big Dance all-time... KU is a No. 1 seed for the second year in a row, the seventh time under Self and the 13th time since seeding began in 1979... KU is 100-44 all-time in the NCAA Tournament, with three NCAA titles (1952, 1988 and 2008), 31 Sweet 16 appearances, 21 trips to the Elite Eight and 14 runs to the Final Four.... Regardless of whether KU plays North Carolina Central or UC Davis, it will mark the Jayhawks' first meeting ever with either opponent.
---
More from Selection Sunday
---