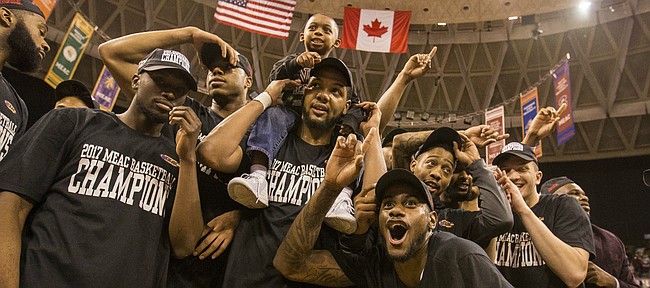 Every March since he took over the program, Kansas basketball coach Bill Self and his staff have been able to begin preparation for their opening NCAA Tournament matchup as soon as they learned their seeding and region on Selection Sunday.
Not this year. The Jayhawks will have to wait three more days to know exactly who they will face.
The No. 1 seed in the Midwest region, KU (28-4) will play in Tulsa, Okla., at the BOK Center on Friday. The 16 seed lined up opposite the Jayhawks won't be determined, though, until North Carolina Central and UC-Davis finish their First Four battle Wednesday night, in Dayton, Ohio.
NCCU (25-8) didn't punch its ticket to the Big Dance until Saturday, when the Eagles won the MEAC Tournament by defeating Norfolk State in Norfolk, Va.
Seventh-year NCCU head coach LeVelle Moton wasn't sure Sunday night whether getting right back to competition would be better than waiting until later in the week.
"We will see," Moton said in a phone interview, during which he declined to comment on the possibility of facing Kansas, looking to avoid giving UC-Davis any added fuel. "We're all running on fumes, been up all night."
Moton guided the Eagles to the NCAAs in 2014, too. Three years ago, NCCU, as a No. 14 seed, lost to No. 3 seed Iowa State. The players who comprised NCCU's rotation then have since moved on.
Photo Gallery
NCAA Tournament 2019: 30 in a row and counting...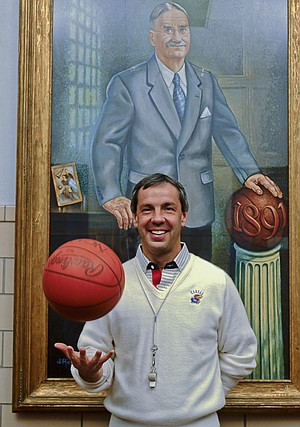 The Kansas University men's basketball team's 2019 trip to the NCAA Tournament marked the 30th consecutive year that the Jayhawks have earned a spot in the Big Dance. That streak is the longest active streak in the country (and also the longest in NCAA history) and speaks to the incredible success and consistency enjoyed by head coaches Roy Williams and Bill Self during that time.
The coach, though, likes the experience of his latest tourney-bound crop. Earlier this season, the Eagles only lost by six at Ohio State, won by 10 at Missouri and lost by four at LSU in their three tests against Power Five programs. Led by 6-foot-5 senior guard Patrick Cole (19.5 points per game), the MEAC Player of the Year, Central relies upon veterans.
"It's not our first rodeo. We've got a couple of fifth-year seniors that have been on the front line before," Moton said. "We've played in arenas with 15,000 to 20,000. We've played under scrutiny. We've played under pressure. We've played in adverse situations and hostile environments. There's nothing new under the sun at this particular point in the year."
Six-foot senior guard Dajuan Graf also averages double figures (14.3 points) for NCCU. Six-foot-seven senior forward Kyle Benton leads the team with 8.2 rebounds a game.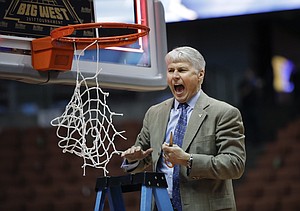 UC-Davis (22-12) played its way into the field by winning the Big West Tournament, and defeating UC-Irvine in the championship game, on Saturday, in Anaheim, Calif.
The Aggies are coached by Jim Les, whom KU fans might remember as the former coach at Bradley, when the Braves knocked Self's Jayhawks out of the 2006 tournament in the first round.
This season, UC-Davis only faced one team from a Power Five league, and fell, 86-61, at Cal, in December.
Six-four senior guard Brynton Lemar (16.0 points) leads the Aggies in scoring, while 6-6 senior forward Chima Moneke (14.5 points, 9.5 rebounds) and 6-3 sophomore guard Siler Schneider (10.6 points) also average in double figures.
UC-Davis made program history by qualifying for the NCAA Tournament for the first time. Attempts to reach Les for an interview were not successful before press time Sunday.
North Carolina Central opened as a three- to four-point favorite over UC-Davis. The teams will square off Wednesday at 5:40 p.m. (truTV) to determine who will face top-seeded Kansas just two days later.
---
More from Selection Sunday
---