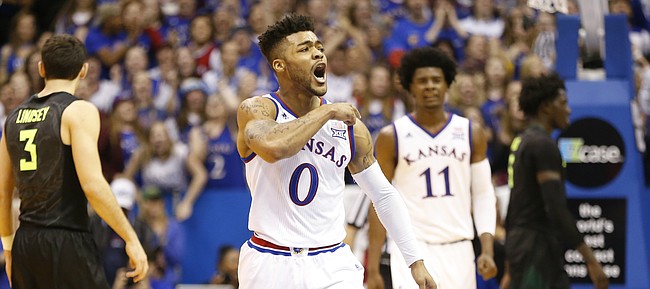 A season that began with high hopes, huge non-conference showdowns and a quest for a 13th consecutive Big 12 Conference title, moved into the postseason on Sunday with the Kansas men's basketball team earning the No. 1 seed in the Midwest Region of the 2017 NCAA Tournament.
Kansas, which finished the regular season 28-3 and lost to TCU in a stunner in the quarterfinal round of the Big 12 tournament last Thursday, earned a 1 seed for the seventh time in head coach Bill Self's 14 seasons in charge of the program. The Jayhawks (28-4) were the No. 1 overall seed in last year's NCAA Tournament and were on pace to repeat that feat again this year until the loss to TCU.
Photo Gallery
NCAA Tournament 2019: 30 in a row and counting...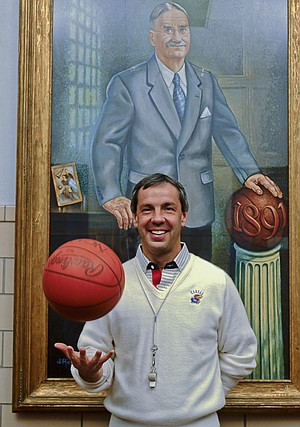 The Kansas University men's basketball team's 2019 trip to the NCAA Tournament marked the 30th consecutive year that the Jayhawks have earned a spot in the Big Dance. That streak is the longest active streak in the country (and also the longest in NCAA history) and speaks to the incredible success and consistency enjoyed by head coaches Roy Williams and Bill Self during that time.
Instead, defending national champion Villanova (31-3) enters this year's tournament as the No. 1 overall seed and the Jayhawks take the consolation prize of discovering that the loss to the Horned Frogs did not hurt their chances to stay close to home for the tournament.
Kansas, which will face No. 16 seed and winner of the First Four game between NC Central and UC Davis (5:40 p.m. Wednesday in Dayton, Ohio) in the first round, will open the tournament Friday in Tulsa, Oklahoma, 220 miles south of Lawrence. Game times will be announced later this evening and the Jayhawks will head to Tulsa on Wednesday.
If the Jayhawks can win two games there, they will advance to the regional semifinals in Kansas City, Mo., which is slated to host the Sweet 16 and Elite Eight at Sprint Center.
A win by Kansas in the first round would put the Jayhawks against the winner of (8) Miami vs. (9) Michigan State in the second round in Tulsa.
Here's a quick look at the Midwest Region, top to bottom.
1 - Kansas
2 - Louisville
3 - Oregon
4 - Purdue
5 - Iowa State
6 - Creighton
7 - Michigan
8 - Miami
9 - Michigan State
10 - Oklahoma State
11 - Rhode Island
12 - Nevada
13 - Vermont
14 - Iona
15 - Jacksonville State
16 - NC Central/UC Davis
Self and two KU players are expected to meet with the media shortly after 6 p.m.
Stay in touch with KUsports.com for updates and reaction throughout the evening.
— Check out the entire bracket.
---
More from Selection Sunday
---