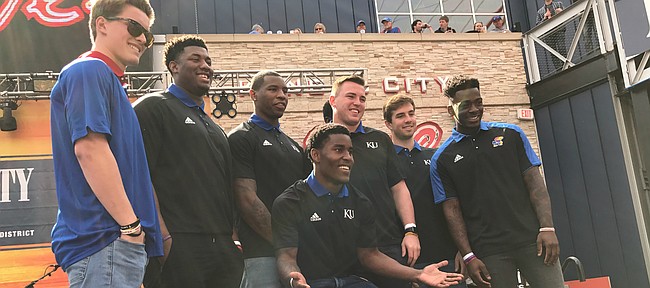 Kansas City, Mo. — Three days before the start of spring practice, Kansas football players and coaches had basketball on their minds — at least for a little while — Thursday at the Power & Light District.
Third-year head coach David Beaty brought staff members and some of the program's most recognizable players with him to a pep rally across the street from Sprint Center, a couple of hours before KU's basketball team opened up its postseason at the Big 12 tournament, in what turned out to be an 85-82 loss to TCU.
Beaty didn't talk much football while addressing, from the stage, fans donned in the colors of KU and various Big 12 schools, other than to introduce a line of assistants and Jayhawks Carter Stanley, Peyton Bender, Daylon Charlot, Hakeem Adeniji, Mike Lee, Joe Dineen Jr., Dorance Armstrong Jr. and Daniel Wise.
On this morning at least, Beaty's focus centered on KU's exploits on the court, as he brought up the basketball program's run of 13 consecutive Big 12 titles to fire up the crowd.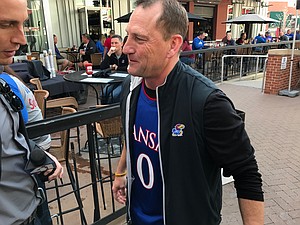 "That's almost impossible to do. … Unless you've got three things: Number one, you've got Bill Self. Number two, you've got the national player of the year," Beaty added, unzipping his black Kansas jacket to reveal a blue Frank Mason III jersey underneath.
The football coach then shouted out "Jayhawk nation" as the third key ingredient before referencing KU's chances of returning to Kansas City for the weekend of the Sweet 16 and Elite Eight.
After leaving the stage, Beaty said he wanted to bring the large contingent from the football program to the pre-game event to show continuity between the university's various programs.
"We truly are a family right up there at KU," Beaty said. "We love Bill. And our guys, they love those guys that play on that team out there. They live together, they eat together, they see each other all the time, so it's important for those guys to go out there and give their support."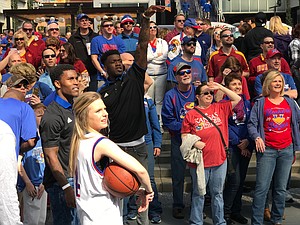 The football team's involvement concluded with safety Lee and receiver Charlot each picking a fan out of the crowd to team up with for a game of P-I-G.
The defensive player won, and said he didn't need any coaxing to take on Charlot, whom Lee has faced plenty of times on KU's practice fields.
"I was ready," the 5-foot-11 safety from New Orleans said. "I had to get warmed up first, start making my shots."
It was easy, though, for Lee and his teammates to quickly shift their attention back to football.
"We're ready for spring," Lee said, ahead of Sunday's first practice.
More like this story on KUsports.com