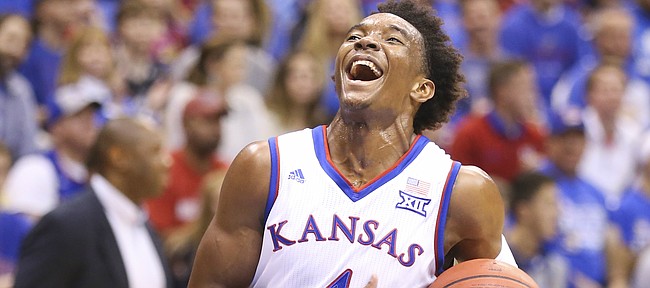 Kansas junior Devonte' Graham followed up his breakthrough sophomore year by delivering the following numbers during the Jayhawks' recently completed regular season.
In 31 games, all starts, Graham averaged 13.2 points, 4.3 assists and 3.3 rebounds while shooting .431 from the floor and .387 from 3-point range, all in average of 35.4 minutes per game.
By all measures, Graham's presence in the KU lineup was a huge reason the Jayhawks won a 13th consecutive Big 12 title, finished with a 28-3 record and have entered the postseason ranked No. 1 in the country.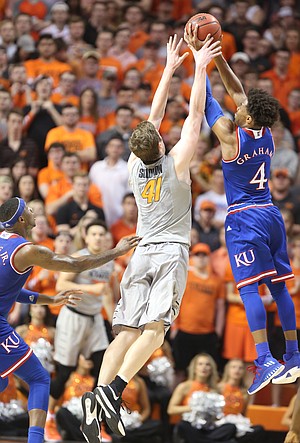 And, in many eyes, the aforementioned stat line is made up of all-conference type of numbers, which are very much on par with some of the very best seasons KU's leading scorers have had under Bill Self and his balanced system.
But when you're looking at Graham's stats through the eyes of someone who realizes that both Josh Jackson and national player of the year Frank Mason III are on the same roster, those numbers don't look quite as strong.
But that does not mean the junior from Raleigh, N.C., disappeared or fell short of what Kansas needed from him this season. In fact, there's at least one person who believes just the opposite.
"I think we have seen it," said KU coach Bill Self of Graham taking his game to another level. "I just think he's deferred a little bit. The game he had against Oklahoma State (last Saturday), (OSU senior Phil) Forte made two twos on him. The other shots he made were off switches. I think Devonte' has elevated his game in a lot of ways. We just haven't seen it through points as much. I think he's playing well, the best ball he's played all year right now, in large part because I think he's playing both ends better."
To Self, that was the key component of the Graham equation. Already dubbed one of the best team defenders on the KU roster, Graham has become more of a disruptive force as an individual defender, as well, while continuing to fit perfectly into the role of complementary scorer, lending support to Jackson and Mason when necessary.
He scored in double figures in 26 of KU's 31 games, but had nearly three times as many games between 10-13 points (13) as he did of 18 points or more (five).
Also of note, in regard to Graham's role as more of a set-up man and less of a scorer, is the fact that, in the five games in which he failed to reach double-digits in points, Graham averaged 6.4 assists and had three of his five highest assist totals of the season — 11 vs. UNC Asheville, eight at Iowa State and six at Texas Tech.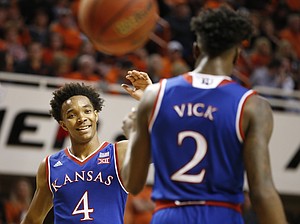 "I think he's picking his spots pretty good," Self said.
And that's precisely the point. Because Graham can get hot from 3-point range and put a team on his back — like he did in last season's wins at Oklahoma and over West Virginia in the Big 12 tournament title game — the expectation was for the junior guard to come out gunning, looking to put up big-time point totals night after night.
But ever the cerebral player, who plays the game with more calculation and intellect than his emotionally demonstrative demeanor might lead one to believe, Graham often has functioned like a quality quarterback running the zone read and knowing exactly when to give the ball to his play makers and also when to pull it back and handle things on his own.
The mere fact that Graham's on-court persona includes elements of both of his personalities gives Self and the Jayhawks a feeling of calm — and one heck of a luxury — whenever Jackson or Mason struggle to get going.
"Flashes against West Virginia, flashes against Oklahoma," Self began. "We have no chance to win those games (last season) without him. We saw that three or four times late in the season last year that I think kind of gave us a sense every game would be like that. He's had some games like that. (He) just hasn't had the opportunity to have as many."