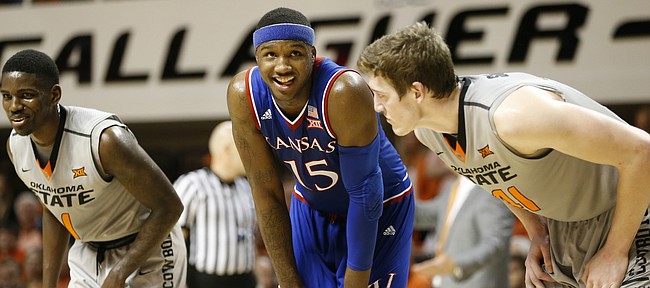 To win this one, Kansas needed more than senior Frank Mason III effectively locking up national player-of-the-year honors and Josh Jackson again showing just how much a freshman so driven and talented can improve in every area of his game over the course of a season.
This one wasn't going to be won without a serious contribution from KU's once-maligned bench.
Possibly emerging Carlton Bragg Jr. delivered in the first half, and surging Lagerald Vick made it happen in the second half of a 90-85 victory Saturday against an Oklahoma State squad backed by wild-eyed support from the sellout crowd at Gallagher-Iba Arena.
First-year coach Brad Underwood and sophomore guard Jawun Evans have ignited a fan base that had gone sour for several years and the crowd was determined to thank them by sending the Cowboys to Kansas City with the best second-half record in the Big 12. Instead, that honor goes to Kansas, which finished four games ahead of three schools tied for second and seven games ahead of the fifth-place Cowboys, who lost their first six Big 12 games.
Photo Gallery
Kansas basketball v. Oklahoma State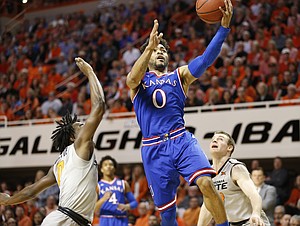 View a gallery of images from Saturday's game between the Jayhawks and Cowboys at
Limited to 11 minutes in the first half, when he picked up two fouls, Landen Lucas needed Bragg to pick him up and he did. Svi Mykhailiuk tacked another game onto his late-season slump and picked up three first-half fouls. Vick started the second half and stayed in the game for all but one minute the rest of the way, finishing with 32 minutes.
Bragg scored all but two of his 11 points in the first half and Vick (nine points, eight rebounds) scored all but one of his points in the second half.
One game does not turn a disappointing sophomore season into a good one for Bragg. Kansas still needs more consistency out of the 6-foot-10 forward from Cleveland, but he has produced two double-figures scoring nights in the past four games.
Podcast episode
Kansas men's basketball coach Bill Self discusses with media members the Jayhawks' 90-85 victory to close the regular season. KU won its 13th regular-season title by 4 games.
"He was great," Kansas coach Bill Self said. "He didn't go as strong on one play, he should have gotten an and-one there in the first half, but other than that, he shot the ball well, he made two jumpers, guys did a good job finding him off ball screens when he ran to the rim. I thought he was good."
Udoka Azubuike's season-ending wrist season right before the start of Big 12 play meant Bragg would spend even more time on the block, less time showcasing his soft touch from the perimeter. His shot took on some rust, his confidence in it fading. It returned against the Cowboys. 
"It feels good to pick and pop instead of rolling all the time," Bragg said.
Devonte' Graham said of Bragg: "He had a great game. His shot was falling. He was getting aggressive down low. He played great."
Lucas called Bragg's performance, "Huge. Huge. I was in some foul trouble in the first half and he came in and sparked us. . . (Shooting) is what he does well and he hasn't too much this season. He came out and he shot with confidence. And that's probably the biggest thing, his confidence in himself and his shot and it went down for him tonight."
With Lucas and Svi battling foul trouble, KU's  fastest lineup —  Mason, Devonte' Graham, Jackson, Vick and Bragg — ran together at four different times in the first half and had a 13-8 advantage on the scoreboard during those minutes.
"Going through practice, we do this drill called 'block-out break.' It's like 15 minutes non-stop," Bragg said. "We just keep going back and forth for our conditioning. That's what it felt like, so I just kept running the floor, staying at that pace."
This game did not resemble the brand of basketball favored by Hank Iba, one of the men for whom the building was named (along with the school's legendary wrestling coach, Edward C. Gallagher).
"I think we have a pretty fast lineup regardless, even when Landen's at the five," Self said. "He's not going to lead the break or anything, but I thought both teams looked fast today. Both teams looked athletic."
And skilled. High-speed precision ruled the day, the sort of efforts from both teams that don't happen unless they are at peak performance heading into the postseason.
Vick didn't always pick his spots perfectly, threw a couple of passes that made him look as if he held a yo-yo instead of a basketball so that he could pull it back and try something smarter, but he remained aggressive, on the attack at both ends and under the boards. He finished his drives well and used his quickness and length to his advantage defensively. Fast-break basketball definitely suits his skill set.
"With Carlton and Lagerald playing like that off the bench, the only thing that was really missing was Svi had a rough day," Self said.
In 50 minutes, Bragg and Vick combined for 20 points, compared to seven points for the Oklahoma State bench.
More like this story on KUsports.com