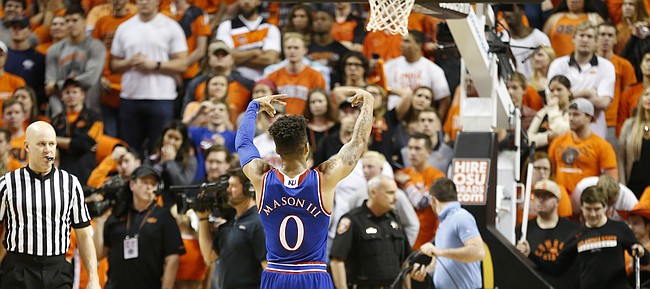 In the final act of his regular-season audition for national player of the year, Kansas senior Frank Mason III turned in one of those games that could not be ignored.
Twenty-seven points. Nine assists. Eight rebounds. One victory.
Led by what Mason called one of the best games of his life, top-ranked Kansas closed the regular season with an intense and wildly entertaining, 90-85 victory over Oklahoma State Saturday at Gallagher-Iba Arena.
It marked KU's first victory in Stillwater since 2013 and would not have come without Mason's spectacular night from start to finish.
Photo Gallery
Kansas basketball v. Oklahoma State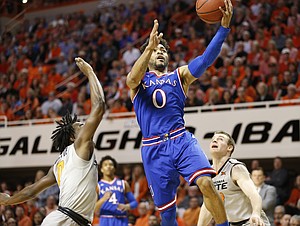 View a gallery of images from Saturday's game between the Jayhawks and Cowboys at
"It's gotta be up there," said KU senior Landen Lucas, emphatically, when asked where Saturday's performance by Mason ranked all-time. "This was like (Oklahoma City Thunder star) Russ Westbrook numbers out there. I mean, he's close to a triple-double, he did things defensively to help us out. He carried the team."
And he did it early and late, as a scorer and a passer, on offense and defense and against one of the best players in the conference.
Oklahoma State sophomore Jawun Evans finished his night with 22 points and 15 assists in 36 minutes, but came up short in a couple of key moments down the stretch. Not Mason.
Consider these three plays on three important KU possessions with the game on the line inside the final three minutes:
Podcast episode
Kansas men's basketball coach Bill Self discusses with media members the Jayhawks' 90-85 victory to close the regular season. KU won its 13th regular-season title by 4 games.
• With KU leading 81-78 with 2:55 to play, Mason broke down the OSU defense and tossed a lob to Lucas, who flushed an uncontested dunk to push the lead back to five.
• With the Cowboys again within a single possession at 83-80, Mason came charging down the floor in transition, knifed into the paint from the right side and found Josh Jackson sitting in the far corner for an open 3-pointer. Jackson buried it and Kansas led 86-80.
"I thought that was maybe the biggest shot of the game," KU coach Bill Self said after the victory. "I thought Josh played really well."
• Finally, with KU leading 86-82 with less than a minute to play, Mason got open on an inbounds pass, momentarily slipped away from the OSU players trying to foul him and then calmly drained two free throws with the wrath of Gallagher-Iba Arena raining down on him.
"I think that's what brings the best out of him," junior running mate Devonte' Graham said of Mason. "You go against guys at your same position who you know are pretty good. Jawun might enter the draft this year and they went head to head and it was a great show. He's definitely my national player of the year. I'm definitely voting for him."
Lucas agreed.
"One hundred percent," Lucas said. "He's shown it every single night. Even his off nights were great. To do what he's done so far this season, he definitely deserves that recognition. I think we all agree on that and we hope he gets it."
Self hardly seemed worried.
"Frank probably solidified a lot of things today," the KU coach said. "He was great."
So great, that his numbers pushed his season averages above 20 points and 5.0 assists. If he's able to maintain that clip for the rest of the season, Mason will become the first player in Big 12 history to achieve such a feat.
"I didn't have a clue," said Mason when asked about the milestone. "I don't really think about things like that. I just try to find ways to get better to make sure my team is successful."
Offense was not a problem for either team in the early going. The Jayhawks (28-3 overall, 16-2 Big 12) got things started with 3-pointers from Mason and Svi Mykhailiuk. Oklahoma State's Jeffery Carroll (27 points) scored 10 of OSU's first 13 points as both teams opened the game by shooting nearly 60 percent in the first five minutes.
After hot starts by each, Self put Mason and Jackson on the bench at the same time and watched the Cowboys quickly trim a seven-point KU lead down to two, 24-22, with 10:15 to play in the first half.
The Jayhawks responded by slowly and methodically building a lead of as many as 11 points late in the first half, but instead of taking a double-digit lead into the locker room, imploded in the final two minutes, giving up an 8-0 run to OSU to close the half and taking a 43-40 lead into the break.
Mykhailiuk's third foul — on a 3-point attempt by Evans at 1:54 — started the slide and Evans followed his three free throws with a traditional 3-pointer that forced Kansas to call timeout.
"It was kind of funny, in a way," Lucas said of the momentary collapse. "At the under-four timeout, coach had mentioned that we were in the same spot last year and then lost the lead going into halftime and pretty much did the same thing. So we gotta get better at that, just gotta play smart and go into the half with more momentum than we did."
Much like the first half, Saturday's second half opened with a flurry of offense from both teams. OSU took its first lead of the game 69 seconds into the second half on a bucket from Evans and, from there, the two teams battled back and forth, exchanging 3-pointers, clutch plays and momentum-changing moments for the first 6-8 minutes of the final 20.
But after a 3-pointer from OSU senior Phil Forte III (13 points on 3-of-8 3-point shooting) tied the game at 55, Kansas hit the Cowboys (20-11, 9-9) with a 9-2 run and never led by fewer than three points the rest of the way.
As they have seemed to do all season long, the Jayhawks played their best in closing time on Saturday, defense stiffening and offense humming.
By this point, that type of production pretty much has become this team's identity.
"We've been there so many times that it's just another shot, another play," Lucas said of the Jayhawks' poise down the stretch. "We've been doing that all year long."
And they did it again Saturday, in a building where they've struggled with nothing but pride on the line. Now, with the No. 1 seed in next week's Big 12 tournament in hand, the Jayhawks will move on to the next goal on their list.
"We take the year section by section," Lucas said. "That was the Big 12 (regular season) and we did that and now we're looking to go to the Big 12 tournament and validate what we did."
Added Graham: "We just want to keep that momentum going. A lot of people kept saying that the game didn't mean nothing because we had already solidified first place and all that kind of stuff, but, when you're competitors you want to win every game you play. And we hadn't won down here in three years so we wanted to get a dub."