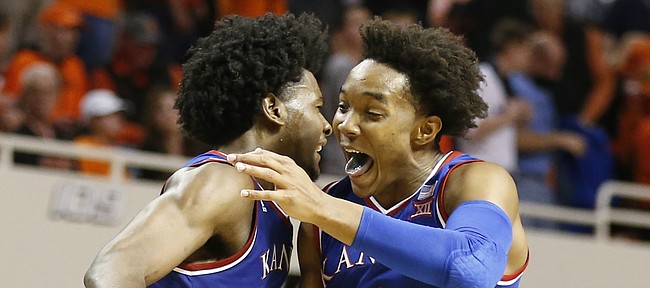 Stillwater, Okla. — Snake-bitten in his home state by his alma mater more times than he'd care to remember, Kansas coach Bill Self walked out of Gallagher-Iba Arena on Saturday with his first victory there since 2013, 90-85 over Oklahoma State.
"Frank hadn't won here," said Self of senior Frank Mason III, who led No. 1 Kansas with 27 points. "And, (seniors) Landen (Lucas) and Tyler (Self), (former KU point guard) Naadir (Tharpe) made a shot their freshman year to win, but we haven't played very well down here at all and it was nice to come down here and play better."
In addition to smiling about ending a three-game losing streak at Gallagher-Iba Arena, Self, who now is 4-6 at OSU during his 14 seasons in charge of the Jayhawks, marveled about his team's ability to win its 13th consecutive Big 12 title by a whopping four games.
"I thought this year would be as tough a year as we've had to try to win the league, and it was," Self said. "Fortunately, we've won several games just like this game that came down to the last couple of minutes. The guys have been pretty good finishers. That's the biggest difference in it being anyone's league race or us winning the league by a few games.... We could've lost the league and still not played poorly because we played several close games. It was a grind. We got tested every game and I thought, for the most part, we played pretty good in late-game situations."
Photo Gallery
Kansas basketball v. Oklahoma State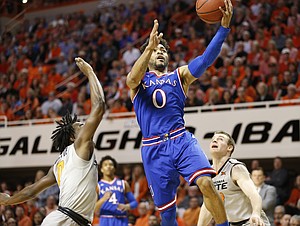 View a gallery of images from Saturday's game between the Jayhawks and Cowboys at
Self said the distance between his playing and coaching days at OSU and today have taken some of the intensity off of his return trips to Stillwater.
"I used to be emotional," he said. "But I'm not emotional anymore. I've been gone a long time. What's it been, 24 years? I still see some of the same places that I saw (24 years ago). A lot of new buildings but a lot of some of the same old places. I actually enjoy it."
KU to face TCU-OU winner
After a wild weekend in the Big 12, we now know the final standings for the 2016-17 conference season and the pairings for next week's Big 12 tournament in Kansas City, Mo.
Podcast episode
Kansas men's basketball coach Bill Self discusses with media members the Jayhawks' 90-85 victory to close the regular season. KU won its 13th regular-season title by 4 games.
Kansas, which locked up the No. 1 seed last week, will play the winner of Wednesday's 8-9 match-up between TCU (17-14, 6-12) and Oklahoma (11-19, 5-13) at 1:30 p.m. Thursday in the Big 12 quarterfinals.
A win there would put Kansas in the semifinals, where the Jayhawks would face the winner of Thursday's 4-5 game between Iowa State and Oklahoma State, at 6 p.m. Friday.
Magnificent Mason
After Saturday's victory, which may have featured the best game of Mason's career, Self was asked where he thought the KU point guard and strong candidate for national player of the year ranked in terms of all-time Big 12 players.
"You're getting into a whole different category when you've got T.J. Ford and LaMarcus Aldridge and Kirk (Hinrich) and Nick (Collison) and Kevin (Durant), Blake (Griffin) and (Michael) Beasley," Self said. "But I don't know, other than maybe Griffin, Beasley and obviously Kevin, I don't know if anybody's had a better year than what Frank's had."
Best pure passer?
In talking about freshman Josh Jackson's big day — 17 points, nine rebounds and five assists — Self praised Jackson's ability to set up teammates.
"He's a good passer," Self said. "He's probably our best passer on the team. He's got great vision."
KU junior Devonte' Graham, who finished with 13 points and four assists in 39 minutes begged to differ.
"Nah, he doesn't pass better than me and Frank," Graham said. "No chance. He's a good passer, though."
A beautiful blunder
With the Jayhawks leading by three with 20 seconds to play and Oklahoma State desperately needing a stop, Jackson fired a perfectly thrown full-court pass to a streaking Lagerald Vick, who caught the pass in stride and converted a tough layup with 16 seconds to play.
The play must have been executed exactly as Self drew it up then, right?
"No," Self said. "Lagerald didn't do what he was supposed to do, but fortunately for us he didn't listen very well. We're good at that, too. But it was a good play by Josh and a good finish by Lagerald."
Wooden finalists
A few days after being named semifinalists for this year's Naismith Award, given annually to college basketball's most outstanding player, KU senior Mason and freshman Jackson landed on the official 15-player John R. Wooden Award ballot.
Mason and Jackson make Kansas the only school in the country with two semifinalists on either list.
Voting will take place from March 13-20, and fans may vote at www.woodenawardvote.com.
This and that...
KU now leads the all-time series with Oklahoma State, 113-57, including a 36-34 edge in games played in Stillwater.... KU now has won 28 games in back-to-back seasons and eight times total in Self's 14 years at Kansas.... KU finished the regular season 10-1 in true road games.... Graham became the 59th Kansas player of all-time to reach 1,000 career points.