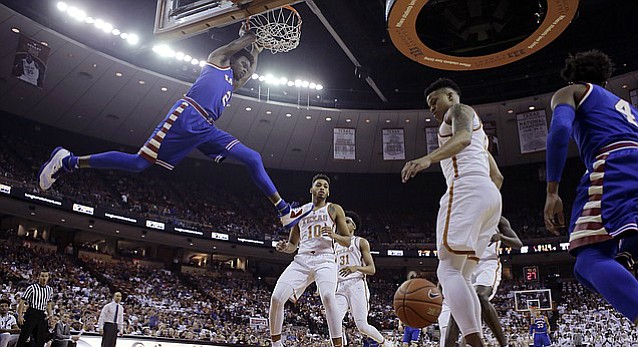 It's not as if it hasn't entered Kansas basketball coach Bill Self's mind to start Lagerald Vick and bring Svi Mykhailiuk off the bench, but he likes what Vick's doing for the team in his current role too much to pull the trigger on that switch.
"Lagerald and Svi, if you look at them over time, they've kind of been, one's been good and one hasn't been as good," Self said. "Over the course of the season, they both had good stretches, but they both had ruts, too."
Svi's in a rut, Vick's on a roll.
In the past two games, Vick is 7 of 10 from the field, 4 of 4 from 3-point range, compared to 1 for 9 and 0 for 7 for Svi. For the season, both players have a .395 3-point percentage.
"Lagerald is a good shooter, but he hasn't made shots during conference season," Self said. "So to see the ball go in the hole was good."
Vick hasn't put it all together yet, but given his blend of athleticism and shooting touch, he has the potential to develop into an NBA player after four years of development at Kansas.
"He can do some things you can't coach, i.e., that play he made at Texas," Self said. "You know, get the steal on the block, pitch ahead, no dribble and dunk it on the other end. . . . Those to me are plays that change the momentum of the game more than others. We've only got a few guys who can make that play and certainly having a guy off that bench with that energy I think helps a ton."
Vick's improved play saves the bench from being a completely unreliable one that makes positive contributions only here and there.
"Even if he hasn't made shots, he brings energy from athletic ability," Self said.
Self didn't sound like a coach ready to shake up his starting lineup for Saturday's 5 p.m. tipoff in Stillwater, Okla., where Kansas has lost three in a row.
"I think our best chance moving forward is to try to get Svi to kind of come out of this, because I think Lagerald at least in the last couple of weeks has been consistent enough that we know what we're getting from him and I certainly like what we're seeing from him," Self said.
Vick is quicker, longer and more explosive than Svi, giving Vick a high ceiling as a defender. Hesitation, particularly when running back at 3-point shooters after helping off of his man, has held him back, but the potential is easy to see.
Vick, who could be on the verge of a big postseason, is at his best in transition and has no trouble keeping up with Frank Mason, Devonte' Graham and Josh Jackson. Give them a baton and watch them fly around the track four times.