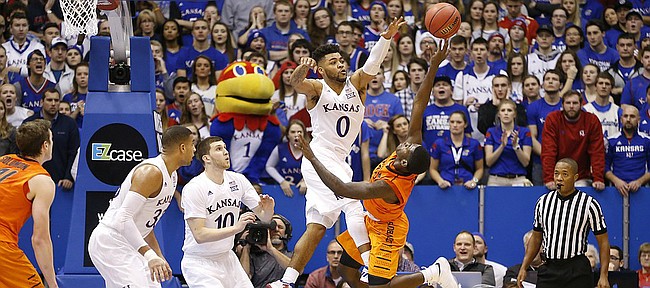 No. 1 Kansas Jayhawks (27-3 overall, 15-2 Big 12) vs. Oklahoma State Cowboys (20-10 overall, 9-8 Big 12)
Time: 5 p.m. | Location: Gallagher-Iba Arena, Stillwater, Oklahoma
TV: ESPN | Radio: IMG Jayhawk Radio Network
Log on to KUsports.com for our live game blog coverage and follow the KUsports.com staff on Twitter: @KUSports @mctait @TomKeeganLJW @bentonasmith & @nightengalejr
Keys for Kansas
1. Share the ball
Oklahoma State ranks dead last in the Big 12 in field goal defense, giving up .465 shooting to its opponents so far this season.
The Cowboys don't have a ton of size inside and have proven to be vulnerable to ball movement and guards that can attack the paint and create easy buckets for teammates. KU excels in both of those areas, but did not take advantage of either in the first match-up with OSU, when the Jayhawks shot just .441 from the floor and registered 11 assists.
With very little pressure on them and nothing significant on the line — other than pride — look for Kansas to play loose, fast and with a purpose on offense, where Josh Jackson should be able to join senior point guard Frank Mason III in getting to the rim against an OSU defense which also ranks last in the Big 12 in points allowed at 77.2 per game.
The Jayhawks hit the Cowboys for 87 points in Lawrence and may be due for another game in the 80s and a hot 3-point shooting night.
2. Free throws matter
It's been a rough season for Kansas at the free throw line — would you believe the Jayhawks are shooting above 70 percent during Big 12 play? — and if the Jayhawks continue to struggle at the line it could be substantially more glaring in this one.
KU and OSU are on complete opposite ends of the conference standings in free-throw shooting, with OSU leading the Big 12 with a mark of .784 and Kansas sitting in ninth place at .657. The Cowboys also feature the nation's leader in free-throw shooting in senior Phil Forte III, who is shooting .952 from the line this season.
The Jayhawks got to the line a whopping 45 times in the first meeting between these two teams, but made just 30 of them, which allowed the Cowboys to hang around until the game's final minutes.
OSU was 11-of-14 from the free throw line in that game and likely will look to get there more often in this one.
3. Defend the 3-pointer
In their last game out, an 86-83 loss at Iowa State, the Cowboys not only made 50 percent of their 3-point attempts, but also shot 26 of them.
For the season, OSU is shooting .406 from 3-point range, second in the Big 12 to Kansas (.408), with seven more makes in 19 more attempts. The Jayhawks rank 10th nationally in 3-point shooting, with the Cowboys right behind them at No. 12 in the country, and whichever team gets hot from distance could wind up on top in this one.
The Jayhawks did a good job in this area in the first meeting with OSU, limiting the Pokes to 7-of-19 shooting from 3-point range, including a 2-of-8 clip for senior sharp-shooter Forte, who is first on OSU's all-time 3-point list (323 career makes) and recently moved into sixth place on Oklahoma State's all-time scoring list.
The Jayhawks rank just sixth in the conference in 3-point defense, allowing opponents to make .358 from deep, compared to OSU's third-place mark of .349.
Not only will KU's ability to defend the 3-point shot help keep Oklahoma State's Big 12-leading scoring offense down, but it also would go a long way toward keeping the Gallagher-Iba Arena crowd from exploding during OSU runs, therein making life miserable for the Jayhawks.
Mega Matchup
Frank Mason vs. Jawun Evans
The second meeting between the Big 12's top two scorers — Mason leads with 20.3 ppg and Evans sits at 18.6 — figures to be another terrific showdown, with both players challenging each other on both the offensive and defensive ends. Mason outdid Evans in the first meeting, both outscoring him 22-15 and guiding his team to victory, but Evans has been on a tear of late, topping 21 points in three of the Cowboys' last four games. Both players have the quickness and toughness to turn the corner and get in the lane and are willing passers, with Evans averaging 6.0 assists per game and Mason right behind him at 4.9. "Jawun Evans may be as talented as any guy around," Self said. "I read something yesterday, or maybe the day before, that, you know, a lot of people are touting Jawun Evans for a lot of national honors, All-American teams and things like that, which I think he's deserving." If there's one area where Mason owns a clear advantage, it's 3-point shooting, where the KU guard enters shooting an even .500 compared to .386 for Evans on 51 fewer attempts.
Jayhawk Pulse
Stillwater, Okla., has not been kind to Kansas during recent years. OSU has won three straight over the Jayhawks at Gallagher-Iba Arena, with KU's last road victory over OSU coming via a one-point, overtime win in 2013.
Since then, it's been three losses in three trips for the Jayhawks, which is something the seniors on this team are well aware of. Frank Mason III and Landen Lucas have never won at Gallagher-Iba Arena and, with their Big 12 careers down to one last game, crossing that off their list would qualify as the perfect ending.
"We knew they were a good team the first game and then all of a sudden they got real hot," Lucas said. "We have been watching, and now they're pretty much a lock for the tournament and playing well. We know it's always tough to win there no matter how good they are, shown by the fact that I don't think I've won there in my time here. So, that's already a big task and then the way they're playing makes it even tougher. We've definitely noticed it and we know that (this game) is not gonna be easy."
Win or lose, the Jayhawks will be the No. 1 seed in next week's Big 12 tournament and are poised for a No. 1 seed in the NCAA Tournament the following week. Those, of course, are the goals every year at Kansas, but, with the start of what really matters right around the corner, the Jayhawks are looking at this game as one last chance to fine-tune everything in preparation for the do-or-die basketball that awaits.
Probable Starters
No. 1 Kansas
G – Frank Mason III, 5-11, 190, Sr.
G – Devonte' Graham, 6-2, 185, Jr.
G – Josh Jackson, 6-8, 207, Fr.
G – Sviatoslav Mykhailiuk, 6-8, 205, Jr.
F – Landen Lucas, 6-10, 250, Sr.
Oklahoma State
G – Jawun Evans, 6-1, 185, Soph.
G – Phil Forte, 5-11, 195, Sr.
G – Jeffrey Carroll, 6-6, 215, Jr.
F – Leyton Hammonds, 6-8, 215, Sr.
F – Mitchell Solomon, 6-9, 245, Jr.