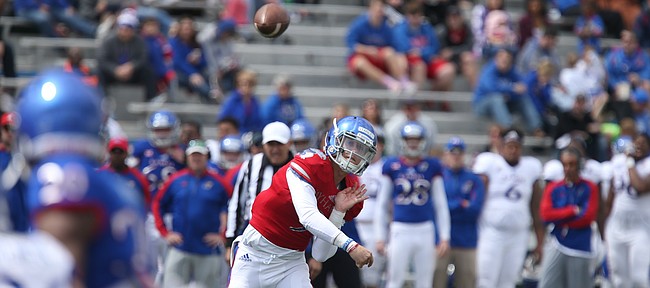 Back in late January, the anticipation finally got to Kansas football receiver Daylon Charlot, leading him to begin hitting up teammates with the question on his mind.
"When do we put our pads on?" Charlot would inquire, feeling impatient about returning to the field in 2017 after sitting out this past season, as a transfer from Alabama.
The 6-foot sophomore from Patterson, La., and all of his teammates finally will get to graduate from the strength-and-conditioning and seven-on-seven portion of the offseason in just more than a week, when third-year head coach David Beaty and his staff put the Jayhawks through their first spring practice, on Sunday, March 12.
KU on Wednesday unveiled its spring football schedule, which includes 15 total sessions for the Jayhawks over nearly six weeks — with spring break providing a respite for the players from March 17-27.
Practice No. 15 doubles as KU's Spring Game, at 1 p.m., Saturday, April 15, at Memorial Stadium.
For the Jayhawks whose college careers wrapped up this past November, KU will have its annual Pro Day for NFL Draft hopefuls on March 13.
Primarily, though, the weeks ahead at the football complex are about the 2017 Jayhawks, and building on the positive momentum created in November with an overtime win over Texas that helped lessen any residual displeasure within the fan base regarding KU's 2-22 record since Beaty took over the downtrodden program.
Expectations among the Kansas staff and players are to surpass the 2-10 record they posted in 2016. With Charlot, fellow Alabama transfer and offensive lineman Charles Baldwin, one-time Washington State quarterback Peyton Bender and other additions already on campus to join forces with key performers from this past fall, such as defensive end Dorance Armstrong Jr., receiver Steven Sims Jr., defensive tackle Daniel Wise, safety Mike Lee, linebacker Joe Dineen, quarterback Carter Stanley and receiver LaQuvionte Gonzalez, the talent on the roster fuels the Jayhawks' hopes.
That's why Charlot and others can't wait to put on pads again and get to work.
"I'm just ready to practice, man," Charlot said.