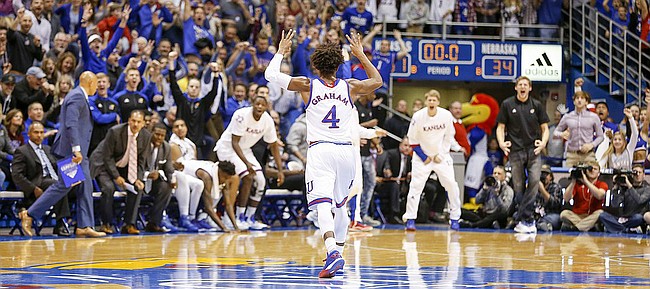 By the time the 2017-18 men's college basketball season rolls around, more than 400 Kansas fans who have had trouble getting into Allen Fieldhouse to see their Jayhawks will have access to seats.
Thanks to a joint agreement reached this spring between Kansas Athletics and the KU student government, Kansas Athletics will take control of 420 seats in Section 19 (on the north baseline behind the Kansas bench) in exchange for reducing the price of the student combo package of season tickets to home men's basketball and football games from $179 to $159 per year.
In addition, KU will make available 20 free seats in the 4,000-seat student section to Pell Grant-eligible students who have not been able to afford the combo pack in the past.
While the change was sought by the KU student government in an effort to make the ticket package more affordable, associate athletic director Jim Marchiony told the Journal-World that the arrangement was one with which both sides were happy.
"It is a positive for both of us because, as always, we will accommodate every student that wants to attend a game, now at a reduced price, and, at the same time, will be able to take care of additional donors who want to see the games," Marchiony said. "An added bonus is being able to take care of 20 students who haven't been able to afford tickets to men's basketball games."
KU student body president, Mady Womack, a senior-to-be who was elected in April, agreed and said she was proud to be a part of bringing positive change to KU.
"When I came in, the talks had already begun and I think it was kind of a mutual thing," Womack told the Journal-World. "The constantly increasing cost of higher education always falls on the backs of the students because we're the ones who want to make our university better. Students have been willing to make up the difference because we really do value our KU education. But it doesn't mean we're thrilled about it. If tuition's going to go up, we're always looking for opportunities to bring costs down in other areas of the student experience."
The new arrangement will be effective for the upcoming school year, and Marchiony said Kansas Athletics was happy to help make the cost of attending home men's basketball and home football games more affordable for the students who play such a large role in giving the Jayhawks an unmatched home-court advantage.
KU students get into all other home athletic events free of charge with a valid student ID.
"We give the student leaders a lot of credit for taking the initiative to help find a way to reduce the cost of attending these events," said Marchiony, who made sure to clarify that the new arrangement would not be taking away seats from students because, in recent years, KU students have not filled their allotment of 4,000 seats.
Kansas Athletics currently is at the outset of selling the new tickets to donors for Section 19 at Allen Fieldhouse, which will help Kansas Athletics recover the revenue lost from reducing the price of the ticket package for students.
"The opportunity to bring the cost down to earlier levels was really important," Womack said. "Because that $20 really does make a difference in students' lives and, as everyone knows, attending home games is such a key part of our tradition."