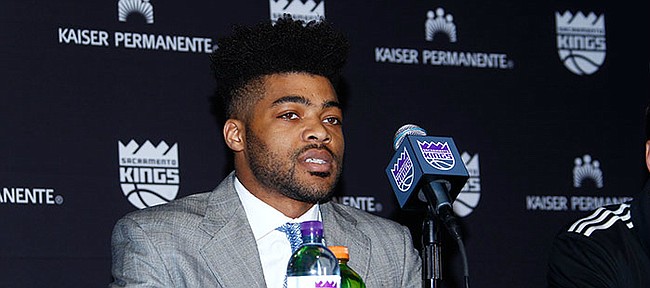 Overland Park — Eight days after being selected with the No. 34 overall pick in the 2017 NBA Draft by Sacramento, former Kansas point guard Frank Mason III is proving to be the same person KU fans came to know and love for the past four years.
There is no newly placed swagger, no ego too big to fit through the door, no actions out of character or moments of extreme celebrity.
Never was that more clear than Friday afternoon at Rally House/Kansas Sampler Oak Park, where Mason sat and smiled for an hour, signing autographs, snapping pictures and making small talk with a couple hundred KU fans.
Most were dressed in some sort of Kansas attire and many either came wearing or purchased No. 0 Kansas jerseys at the store.
As soon as 3 p.m. arrived, those in charge of the signing cut the line and told those behind the mark that there would be no more autographs or pictures past that point because Mason had to head out. Hearing that, the reigning college player of the year, turned in his chair and told one of the event organizers that he had time to meet with everybody. Just like that, a day that would have been dubbed a disappointment for 20-30 Kansas fans was made by the kindness and generosity of Mason.
All of this after shooting a car commercial for Lawrence-based car dealership Crown Automotive on Friday morning, rushing to the autograph signing Friday afternoon and then hustling to renew his driver's license before the DMV closed at 5 p.m. on a Friday.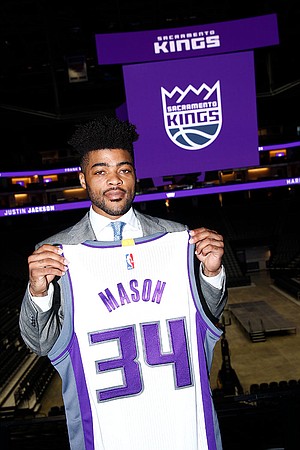 Oh, and if that schedule isn't crazy enough, Mason will be back on the mound at Kauffman Stadium at 1 p.m. Saturday to throw out the first pitch of the Royals-Twins game. You probably remember Mason's last trip to the Kauffman Stadium mound. Last August, he bounced a pitch to teammate Devonte' Graham during KU Day at The K, a toss considerably better than the one Josh Jackson threw out at a recent Arizona Diamondbacks game.
From Lawrence to Sacramento, Sacramento to Kansas City and back to Lawrence, Mason's life has been running at mach speed since he was drafted a little more than a week ago.
But not even the hectic pace of life as an NBA player has even so much as bumped Mason off of his foundation.
"It's definitely a little different feeling," Mason told the Journal-World Friday in his first local post-draft interview. "I'm still getting adjusted to it and I honestly don't know how to feel. But I'm still carrying myself the same way as I was at KU, treat everyone the same and with respect and make sure the fans are happy."
That last part is easy to do because Mason, himself, is so happy.
"I've been enjoying everything, honestly," he said. "Draft night was a special night, I got to spend time with my family and my son was there and it was one of the best moments of my life."
Although he has yet to get a complete feel for how he fits into the Kings' future plans, both on and off the court, Mason has felt right at home during the limited Kings-related events he has been to thus far. The presence of new Sacramento teammates, De'Aaron Fox (Kentucky), Justin Jackson (North Carolina) and Harry Giles (Duke), players who come from a similar situation as Mason has made the early portion of his transition a breeze.
"We only got a chance to hang around each other for maybe a few hours and then we got to go home for a little break," Mason said. "But I'll actually head back out there (Sacramento) this weekend so we'll spend some more time together then I'm sure."
After tossing out Saturday's first pitch, Mason and the Kings will begin play in NBA Summer League action next week in Las Vegas. And as luck would have it, the first team on Sacramento's schedule (July 7) is none other than the Phoenix Suns, who made former Jayhawk and Mason teammate Josh Jackson the No. 4 overall pick in last week's draft.
"We just played here at KU together and now we're playing against each other in NBA Summer League out in Vegas," Mason marveled. "I'm just excited and ready to go out there and compete."
As for whether Mason had heard anything from Jackson yet about the match-up that will take place in the same building the duo helped Kansas defeat UNLV last season?
"I have," Mason said with a smile lighting up his face. "He just said he's ready for the match-up."