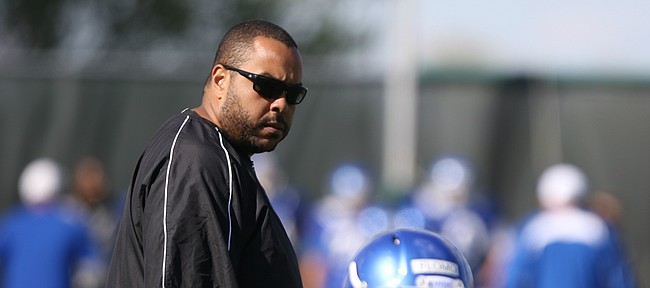 No matter how hard he tried, Tony Hull could do nothing to stop the tears. 
The story already had leaked to the local media, but Hull still struggled to find the composure to speak to his team — though they knew exactly what he was about to say.
His principal stepped in and spoke briefly while Hull attempted to regain his composure. Finally, the inevitable bombshell was dropped: Hull was leaving his head coaching position at Warren Easton Charter High in New Orleans to be the running backs coach for David Beaty at the University of Kansas.
"It was probably the toughest thing I've ever done in life," Hull recalled. "I talked to the kids that morning and I cried like a baby. It took me about 10 minutes to get one word out because I had so many tears for them."
Telling his team was certainly difficult, but the decision to accept the KU job was an easy one. 
Once Hull pursued jobs coaching high school football, he knew he ultimately wanted to be a college coach. Now that he's accomplished that at age 35, Hull is doing something even more remarkable: He's turning Kansas into a legitimate factor on the recruiting trail by plucking top-tier talent from Louisiana.
In the 14 years prior to Hull's arrival, Kansas received one commitment from the state of Louisiana. The commit came from Tyriek Starks — who was Hull's quarterback at Warren Easton — one month before Hull was hired at Kansas.
The 2018 recruiting class will be Hull's first full class since arriving in Lawrence, and it's shaping up to be the best in school history.
Kansas has already received 13 non-binding verbal commitments. That includes one five-star prospect, New Orleans receiver Devonta Jason, who is one of four potential KU signees from Louisiana. 
The recruiting class ranks 20th in the country. The Jayhawks haven't ranked in the top 30 in the last 14 years.
Teams that go 2-22 over a two-year stretch don't generally land top-tier talent on the recruiting trail.
Enter Tony Hull.
"I introduce kids to who I am, and I introduce kids to the University of Kansas," Hull said. "I think that has a greater effect on kids when you can show them how great an environment is as opposed to telling them about it."
The tall, burly New Orleans native is the type of person who asks for more questions during an interview. He's the type of person with the goal of being a difference-maker in all walks of life. Most importantly, Hull isn't worried about the outcome, but rather the process, which is what gave him the courage to leave one job he loved to pursue his dream.
* * *
Before he ever coached football, Hull was a two-year starter on the offensive line at Louisiana Lafayette. He earned a bachelor's degree in industrial technology in 2004, and one year later, he became a rocket scientist. 
He helped build fuselages for F-18s for Northrop Grumman in California before eventually returning to New Orleans to supervise welding on a space shuttle's external fuel tank for Lockheed Martin, according to Sports Illustrated.
When Hull left NASA for Warren Easton, he wanted to build the best possible program for the city of New Orleans. However, he had to start from scratch.
After being devastated by Hurricane Katrina in 2005, Warren Easton brought back football in 2007. Most schools in the area revived their football programs in 2006. So by the time Hull gave up almost $100,000 in salary to take the job, the Warren Easton football team had 45 players, but only three had ever played at the high school level.  
By his third year, Hull's squad was back in the playoffs. By his seventh year, the Eagles appeared in the state championship. In his tenure as coach, his student-athletes saw a 100 percent graduation rate, and he implemented a character development sector that had them assisting inner city youth. 
"If you told an average person their story, it would be very, very hard for most folks to not get emotional when they hear it," Kansas coach David Beaty told ESPN.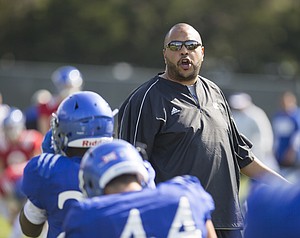 In 2016, when Kansas running backs coach Reggie Mitchell left for Arkansas, Beaty knew he had to find a way to convince Tony Hull to take the position. 
It was a relatively quick decision for Hull, despite other college offers on the table. He and Beaty had developed a friendship during Beaty's days at Texas A&M;, when he would often recruit Hull's Warren Easton players. When Beaty told Hull they could do something special for KU, Hull believed him and jumped on the chance to be a part of it.
"I believe so much in his vision," Hull said. "It's just about who he is as a person and his values. That's honestly all I needed to make the jump because I knew him so well and I knew what a great man he was."
Hull also now holds the position of associate head coach, a position to which he was promoted in February.
* * *
"Do you want to catch 100 balls?"
"Do you want to be great over here?"
Those were two of the many questions posed by Hull to Daylon Charlot, a former four-star receiver who announced his intentions to transfer from Alabama last year. He heard from a lot of schools, "too many to remember" in fact, when he was on the market. 
After one year of playing in a pro-style offense at Alabama, Charlot knew he wanted to play in the Big 12, a conference known for airing it out in the passing game. 
But the Jayhawks had an advantage over the rest of the Big 12: they had Hull. One of Charlot's best friends — Oklahoma State receiver Tyron Johnson — played for Hull at Warren Easton and told Charlot all he needed to hear. Charlot committed to Kansas the next day.
"Coach Hull is a great guy, and he wouldn't lead you in the wrong direction," Charlot recalls Johnson saying.
After being recruited by Hull and being around him for the last nine months, Charlot understands why so many kids want to play for KU's associate head coach. 
For one, Hull built a high school program from the ground up and was coaching in a state championship game just three years ago. But perhaps most importantly, Hull is an expert when it comes to developing relationships.
"I don't know how to explain it," Charlot said. "He just has that positive vibe to him. High school players are going to trust him."
Even though recruiting is clearly Hull's strength, he wants to be known for more than that. He wants to be known as a difference-maker, willing to do anything and everything necessary in order for KU to succeed. 
"He's a guy that it's about always what's best for our team, our players and our coaching staff," KU defensive coordinator Clint Bowen said. "Whatever the job that has to get done, he embraces it."
Bowen has been a college football coach for 16 years, so he knows as well as anybody that recruiting can be an endless job. The moment one recruiting class wraps up, the work on the next one begins. 
The KU coaches always watch film after practice, and more often than not, Hull will stay in his office until 1 or 2 a.m., sending emails, writing letters and doing everything within NCAA rules to land a recruit. And he doesn't have a hard time finding the motivation to continue to do just that.   
"Losing is not an option," Hull said. "I refuse to lose. The University of Kansas will not lose. We may take a setback, but we will not lose."