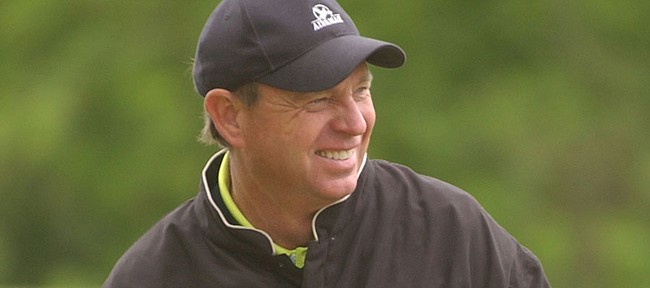 More than 40 years ago, Ross Randall noticed that a young boy at his summer golf camp didn't have a pair of golf shoes. He also noticed the boy had unusually large feet for his age. So Randall grabbed a pair from his garage and gave them to the boy, who was delighted to find that his first pair of golf shoes fit just right and not only that they were worn by a golfer who used to compete against Jack Nicklaus and Arnold Palmer, Gary Player and Lee Trevino.
Randall, some from that era opined, was a better sand player than all of those golf giants. Years later, the boy from his camp became a terrific sand player as well and a near scratch golfer.
The Lawrence golf community was rocked hard in April when both Randall, everybody's friend at Alvamar for so many years and long-time golf coach at Kansas, and the boy whose first pair of golf shoes came from Randall, Tom Rainbolt, everybody's friend at Lawrence Country Club for so many years, died in a nine-day span.
Randall, who had retired in Florida with wife Linda, was looking forward to attending the first Ross Randall Par 3 shootout at Twin Oaks in Eudora (1326 1900 Road). The show must go on and will this Monday with 32 club professionals vying to be the first winner of the Kirk Cup (donated by former KU golfer Frank Kirk), which is to have winner's name inscribed on it each year.
Weather permitting, eight foursomes will partake in a nine-hole qualifying with an 8:30 shotgun start. The field will be seeded according to those scores and a single-elimination match-play format will determine the winner, probably some time in mid-afternoon, barring rain delays.
Linda Randall, in from Florida for the event, will be guest of honor. Since she's not a professional golfer, she won't be eligible to compete, which is good news for the rest of the field. (She clubbed me 7 & 5 in a match at Alvamar. Then again, that was before I mastered the game.)
LCC head pro Kristen Samp, Randy Towner of Firekeeper and former Free State High golfer Nick Burkart of Mission Hills Country Club are among the competitors vying for $3,500 in prize money, including $700 for the winner.
Former KU golfer Rob Wilken is going to be "tough to beat," according Twin Oaks pro Jeff Burey, who also said to keep an eye on former KU golfer Clay Devers.
"Even before Ross passed away I had this on the books," Wilken said. "This makes it a little more meaningful."
Players will carry two wedges and a putter for the three-club tourney.
Burey said the public is encouraged to attend to form a gallery and it won't be necessary to leave the grounds to buy lunch.
A "Torched Goodness" food truck will be parked at the course from 11 a.m. to 2 p.m.
Sean Thayer, who played for Randall at Kansas, said he will come all the way from Garden City to see Linda Randall and watch the match-play tournament. (Burey recommends trying the creme brûlée.)
Rainbolt, who drilled teeth for a living and golf balls for recreation, would not have been eligible to play in it, because he was an amateur. He no doubt would have been in attendance in search of tweaks to his own game and to thank Randall one more time for his footwear.
Rainbolt's most famous golf shot came when he was playing with friends at Lawrence Country Club several years ago and went way under par on the back nine, thanks in part to holing out from the front right bunker to a back pin on No. 15.
Jon Zylstra, then head pro at LCC and now an instructor at Eagle Bend, filled up a bucket of balls and told Rainbolt a large bill was his if he could do it again from the 15th bunker. On his very first attempt, Rainbolt holed out again and screamed with a huge grin, "Every time! I do it every time!"
SportsCenter anchor Neil Everett, who enjoys taking in games in Allen Fieldhouse and has made many friends, including Rainbolt, in Lawrence made mention of Rainbolt with a photo of him golfing shortly after his death.
No sand bunkers guard the greens of Wakarusa Pitch & Putt Golf Course, at Twin Oaks, which generates most of its business at the driving range. Even so, the tournament is all about the short game.
"This course is an equalizer," said Burey, 67, who is in the field. "Age and gender don't matter."
I boasted to Burey about a recent strong round at Eagle Bend — otherwise, what's the point of having a good round? — and based on that information, he told me I would shoot 30 at his pitch-and-putt course, a great place for beginner's looking to start in the game without worrying about embarrassing themselves. Sure enough, I shot 30.
Burey predicted the low medalist or medalists in the seeding round will come in at 24. I'll take the under there. He also predicted there will be four holes-in-one during the day. Again, I'll take the under.
Randall's most successful player at Kansas, touring pro Gary Woodland, won't be in the field, but did make news this weekend. Woodland's wife, Gabby, gave birth to the couple's first child, a baby boy named Jaxon Lynn Woodland. Gary's wife, Linda Woodland, reports on Facebook that Jaxon arrived 10 weeks early and "is breathing on his own already."