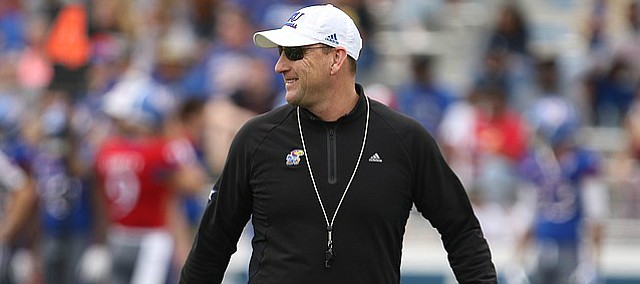 When Kansas football coach David Beaty met with Nick Williams, KU's latest commit, on his unofficial visit to campus earlier this month, he saw a familiar face in the room.
Williams, a 6-foot-8, 260-pound offensive lineman, was joined by his high school football coach Hoyt Gregory, one of Beaty's former teammates and college roommates at Lindenwood University.
Gregory, who coaches at Ritenour High near St. Louis, has a friendship with Beaty that ranges from best man at each other's weddings to assistant football coaches on the same staff at Texas high schools.
This time, Gregory had an opportunity to watch Beaty sell the KU program to one of his players.
"Twenty to twenty-five years later, here he is telling one of the kids that I'm coaching kind of the same stuff that he was telling me when I was on his offensive line," Gregory said. "It was really a joy and pleasure to listen to."
Gregory emphasized that his relationship with Beaty didn't have any influence on Williams' decision to commit to the program.
Williams, who announced his verbal commitment Wednesday on Twitter, didn't play football during his sophomore year. He's seen as a player with plenty of upside and athleticism.
"We've been at camp the past two weeks and he's done some things — I've played college football at Div. I — and when I saw it, I'm like this dude is the real deal," Gregory said.
Williams is rated a three-star prospect by Rivals.com and the top offensive lineman in Missouri in the class of 2018. He chose the Jayhawks over offers from Illinois, Minnesota and several others.
Before the visit to Lawrence, Gregory said he was impressed by KU offensive line coach Zach Yenser's approach to recruiting Williams.
"I've dealt with coaches for the last 24 years and Yenser really blew me away with his compassion for the kids in the game and how he was excited about Nick," Gregory said. "Like he mentioned, it's not raw. Nick is unpolished. He has a ceiling that can be so amazing, and that's what made me like, 'Man, this dude really just gets it.'"
Gregory said watching Beaty on the recruiting trail brought back memories of their playing days together.
At Lindenwood in 1993, the team's starting quarterback suffered an injury and it forced Beaty to shift from a player catching passes to the one throwing them.
"He was now the quarterback and he said, 'We're going to win football games. Believe in me,'" Gregory said. "That's the same thing that he's preaching to the kids."
With an opportunity to have a first-hand look at Beaty's rise through the coaching ranks, Gregory isn't surprised by any of it. He cites Beaty's passion and work ethic as things that stand out to him.
As assistant high school coaches in Texas, Gregory remembers when Beaty tried to convince the team's head coach to move to a spread offense in the mid-1990s. It was an unsuccessful argument because it was such a dramatic shift from the typical wing-T, two-back formations, but Gregory said it showed the creativity in his ideas.
"We grinded so hard at the high school level together," Gregory said, "that he made a comment one time, 'I'm so busy, I can't even buy stamps to pay my bills.' And that's the truth. We worked for a guy that the one thing that we were not going to be was out-coached."
More than 20 years after playing alongside each other, Gregory enjoyed the chance to watch his friend from a different perspective. He sees the same level of positivity from Beaty that he saw in college and was thrilled to see one of his players commit to that vision.
"I don't tell kids where to go but in my heart, once Nick told me that's where he wanted to go, I believe that's a really great fit for Nick," Gregory said. "Dave and the offensive line coach have done such an amazing job with not just selling Nick on what he can be, but selling the program."