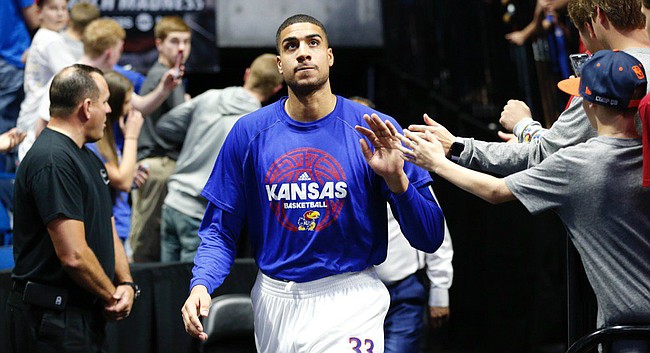 Josh Jackson may not have ended up in Celtic green, but that does not mean Boston will be Jayhawkless this summer.
Friday afternoon, former Kansas center Landen Lucas revealed on Twitter that he was joining the Celtics' summer league squad for sessions that run July 3-6 and July 7-17.
"Excited to play with the Boston Celtics for summer league," Lucas wrote. "Thank you for the opportunity! @celtics"
With that, Lucas' journey to professional basketball begins. No one expected the 6-foot-10 forward to be drafted in Thursday night's NBA Draft — teammates Josh Jackson and Frank Mason III went fourth and 34th to Phoenix and Sacramento — but it seemed clear for the past several weeks that Lucas would get some kind of shot in the NBA.
"After considering about five team offers, Landen decided on the Boston Celtics for summer league," his mother, Shelley, told the Journal-World. "He feels really good about it. Right now he is hanging out with his best friend and some family before leaving for Boston on Wednesday."
The former five-year Jayhawk worked out for several NBA teams and spent much of the past two months working on his game and conditioning with trainers in Daytona, Florida.
The last time he was back in Lawrence, Lucas said he felt he had improved a great deal in every aspect of his game during that time and was a much better player, especially physically and on the offensive end, than he was able to show during his playing days at KU.
Whether that kind of improvement will be enough to earn him a spot in the NBA or perhaps even the newly named G League — formerly the NBA's Developmental League — remains to be seen. But all Lucas has asked for from the beginning is a chance and he's now getting it with one of the most storied franchises in all of sports.
If Lucas does not wind up sticking with the Celtics or any other NBA team, sources have told the Journal-World that the interest from various foreign teams is high and he no doubt would have an opportunity to start his professional career elsewhere, perhaps even in Japan, where he grew up for a portion of his childhood.
Ellis added to T'Wolves
Former Kansas forward Perry Ellis, who went undrafted following his senior season at Kansas in 2016, has agreed to join the Minnesota Timberwolves' summer league squad.
The move is the latest in Ellis' attempt to make an NBA roster. But unlike many undrafted free agents, who are in all-or-nothing situations, Ellis enters the summer opportunity with a fallback plan already in place.
This spring Ellis, signed an agreement with the Sydney Kings of the Australian league and last month, following a KU camp scrimmage, he said the Kings had been very supportive and accommodating of his desire to catch on with an NBA team.
"They have respect, they know I have my dreams but they would love to have me also," Ellis said of the message he received from Sydney's front office.
Although he will not necessarily be playing with them, Ellis will be attempting to make a Minnesota roster that already includes former Kansas standouts Cole Aldrich, Brandon Rush and Andrew Wiggins.