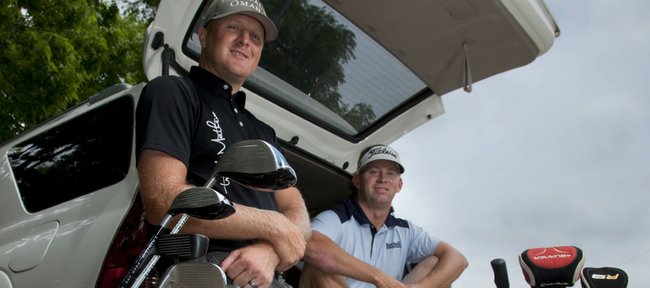 Former Kansas All-American golfer Ryan Vermeer gave up the dream of catching on as PGA touring pro, stopped playing the mini-tour circuit and headed back to Omaha six years ago.
He has been both teacher and student in most of the years since, working as a professional instructor and essentially doing homework toward becoming a certified PGA pro.
Vermeer became certified last June, which made him eligible to try to gain entry in the PGA Championship, the fourth and final of golf's majors.
Vermeer, 39, made the field on his first try after winning the Nebraska Section championship and then finished in a seven-way tie for ninth in the PGA Professional Championship earlier this week. The top 20 in a field of 312 club professionals earned a spot in the PGA Championship at Quail Hollow in Charlotte, N.C., Aug. 10-13.
Vermeer and former college teammate Chris Thompson used to play on the Tar Heel Tour and during those days Vermeer said he would "hang out and watch the big boys play," at tour events there.
Now he's going to play against the biggest boys in golf.
"I haven't played it, but I've seen it," Vermeer said. "I'm going to try to put together a weekend reconnaissance trip, go down and play a couple of rounds ahead of time and lessen the burden of having to play too many practice rounds during the week. That can make you tired. It wouldn't be unlike me to want to spend 24/7 at the golf course and I don't know if that's the best idea."
Not that he's not at home on a golf course. On the contrary, Vermeer, the son of an Omaha club pro, is following his father's path to a lifetime spent in golf.
The younger Vermeer has worked at two different clubs in Omaha and has joined with another teaching pro in Omaha, Jon Petersen, to target high school golfers who have aspirations to play in college.
They lease a warehouse every winter and run a big junior golf program.
"There are 50 high school and college golfers we give lessons to," Vermeer said. "We like to work with guys who are talented players who want to get better and will do the work to get better, when you're usually working a 17-handicap club golfer who thinks that in an hour you're going to fix his game and he's never going to have to come back."
Vermeer said he plans to try to get ahold of Gary Woodland to see if he can play a practice round with the former Kansas golfer who ranks 46th in the Official World Golf Ranking.