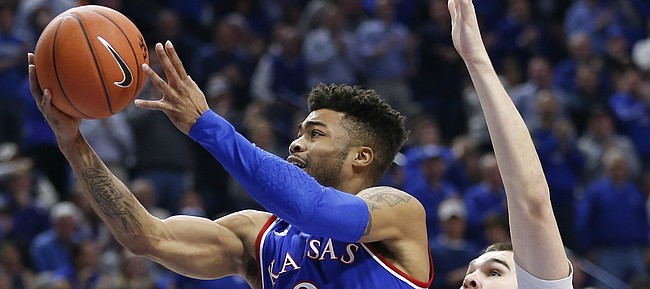 Two suspenseful moments in the NBA draft came and went without hearing the name of a Kansas basketball player.
The first came when the Boston Celtics chose Duke's Jayson Tatum instead of KU's Josh Jackson, a victory of sorts for Jackson since he clearly preferred going to the Phoenix Suns or he would have worked out for the Celtics.
The Suns ranked 28th in the NBA in defensive efficiency, a number that Jackson will play a part in shrinking. Jackson got what he wanted and will have a chance to start and star right away.
The next suspenseful moment arrived at No. 29, when it became the San Antonio Spurs turn to snag a bargain the way they almost always do.
Picturing Mason competing in the playoffs, the announcers talking about how the Spurs did it again, stole a player late in the draft who makes them look smart, took on such a real feel to it. The clock ticked so slowly after the 28th pick that I couldn't stand to wait, so I snuck a peek, and by that I mean I checked Adrian Wojnarowski's Twitter account (@WojVerticalNBA). He routinely and accurately beats television to the picks.
The Spurs needed a point guard. They like experienced, proven players. Sure enough, Wojnarowski had the pick posted already and it was Derrick White, a 6-foot-4 guard from Colorado who spent the first three seasons of his college career at Div. II Colorado-Colorado Springs. Since the Spurs selected him, he's destined for stardom and Mason is headed to Sacramento to join Ben McLemore.
Kansas coach Bill Self said that the Kings worked out Mason twice and heading into the draft Self figured Mason would not go past the 34th selection. Self said the fact that the Kings picked a point guard in the first round, De'Aaron Fox of Kentucky, and still couldn't pass up on Mason shows how high they are on him and is an indication that he'll get plenty of playing time. As Self sees it, Fox and Mason have the mettle to make Sacramento a tougher team.
"I'm so excited for him," Self said of Mason. "Now he's going to get a chance to provide for himself and his family in ways he never would have dreamed possible five years ago."
The NBA draft's a blast, offering everyone watching a chance to opine on which players were drafted too early, which should have gone earlier.
The first-round bargains: Jackson at No. 4 to the Suns, Kentucky's Malik Monk way-too-late at No. 11 to the Charlotte Hornets, Purdue's Caleb Swanigan at No. 26 to the Portland Trail Blazers.