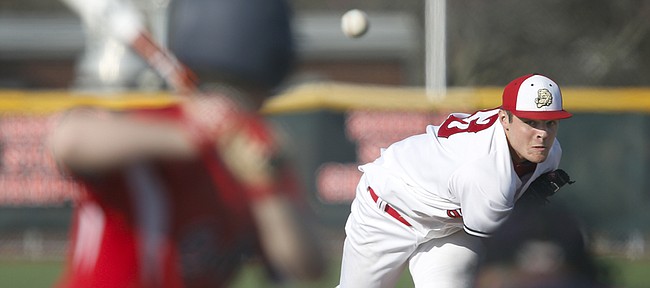 It was the second time Bryce Montes de Oca went through the Major League Baseball Draft process, but it was still the same amount of joy for Lawrence High coach Brad Stoll.
Montes de Oca, who graduated valedictorian from Lawrence in 2014, was selected by the Washington Nationals in the 15th round of the MLB Draft last week, 463rd overall.
After pitching to only one batter in the 2016 season, before being shut down with an elbow injury, Montes de Oca returned to throw 61 innings during his junior year at Missouri. The 6-foot-7, 261-pound right-handed pitcher posted a 4.28 ERA and 4-5 record on the mound, striking out 61 and walking 42.
"It's always neat to see kids that you know have their name come across that draft tracker," Stoll said. "It was extra special when you've known him as long as our family has known him."
Montes de Oca, who couldn't be reached for comment, was drafted in the 14th round of the 2014 MLB Draft by the Chicago White Sox, bypassing the opportunity to turn pro to play at Missouri.
He draws the attention of MLB scouts with his fastball reaching 95 mph and an improving curveball. Opposing hitters only recorded a .205 batting average against him this season.
Once again, Montes de Oca will have to make a decision on whether to stay in college or turn pro. The signing deadline is July 7.
"I think the best thing for Bryce is for him to come back one more year," Missouri coach Steve Bieser told the St. Louis Post-Dispatch before the draft. "With the strides in development he made this year, I think we can make that same amount of gain in his game."
During the past two summers, Montes de Oca played in the Cape Cod League with the Falmouth Commodores, where Stoll served as an assistant coach. Several Falmouth players were selected in the draft, including University of Kansas pitcher Stephen Villines and shortstop Matt McLaughlin.

"Guys like (Villines) pitch for a long time because when he trots out of the bullpen, nobody likes to see that guy," Stoll said of Villines, who was drafted in the 10th round by the New York Mets. "He's just on your thumbs quick and he breaks a lot of bats."
McLaughlin was drafted in the 12th round by the Colorado Rockies. According to MLB.com draft analyst Jim Callis, McLaughlin signed for $125,000 and Villines inked with the Mets for $10,000. Another KU pitcher, Blake Weiman, signed with the Pittsburgh Pirates for $150,000 after being drafted in the eighth round.
Shortly after the draft, McLaughlin made a phone call to Stoll, appreciative of the chance to play in the Cape Cod League.
"Getting to know Matt last summer, he's off the charts as a person and very deserving of the opportunity to play pro baseball," Stoll said.
Whether Montes de Oca joins his former summer teammates in the professional ranks or continues his collegiate career, Stoll enjoyed seeing their hard work rewarded.
"It's just awesome to see that for all those kids," Stoll said. "They are all tremendous human beings."
More like this story on KUsports.com