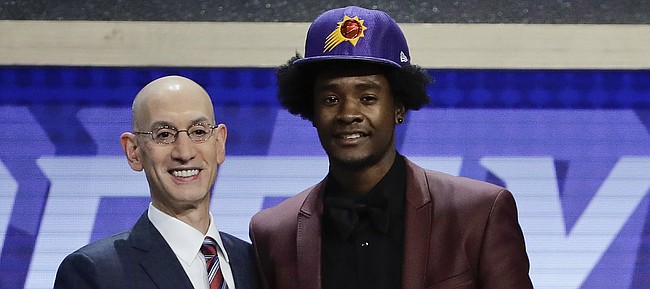 It may have taken a dozen or so questions, both from ESPN's broadcast and radio interviews on his way out of the arena, but former Kansas guard Josh Jackson did not waste time getting to the point when talking with reporters after being selected fourth overall by the Phoenix Suns in Thursday's NBA Draft in Brooklyn, New York.
Falling at least a spot or two farther down the draft board than he, and many others, expected he would, or at least should, Jackson was asked Thursday night why he believed he was the best player in this year's draft class.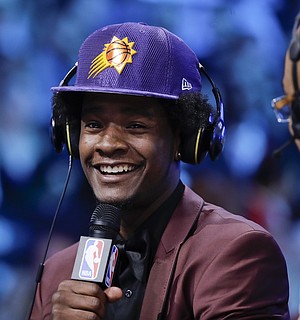 "I think my versatility, just my competitive spirit," Jackson said. "I don't think the other guys in this draft care as much as I do. I don't think they play as hard as I do, period. I think that's what really makes me special. I refuse to fail, period."
As if that declaration was not a strong enough indication of Jackson's confidence and sudden desire to prove the three teams who passed on him wrong, his answer to the cliche' question about which NBA player he was most looking forward to facing added another layer to the Jackson that Kansas fans saw glimpses of during his lone season as a Jayhawk.
"Well, Draymond Green, of course," said Jackson of the fiery Golden State star. "I've been knowing him for a long time now and I've watched him grow since he was in high school and playing at Michigan State. He's kind of exactly how I am in terms of being competitive and a little bit of trash talking, so I'm really excited to get out there and be able to play against him. Obviously, there are a lot of great players in this league, LeBron James, one of the best players in the world, Kevin Durant. I really want to get out there and see where I stack up against some of the best players in the world."
Jackson did that on the college level as well as just about any freshman to come through Kansas.
Averaging 16.3 points per game during his lone season as a Jayhawk, Jackson finished second on the team in scoring to national player of the year Frank Mason III (No. 34 overall to Sacramento) last season and was in the top three on the team in rebounds, steals, blocks, assists and minutes played while starting all 35 games he played.
Jackson became the fourth Top 5 pick under Self at Kansas and also is the 22nd KU player and 11th KU lottery pick drafted during the Self era.
He joins Andrew Wiggins (No. 1, 2014), Joel Embiid (No. 3, 2014) and Thomas Robinson (No. 5, 2012) as the highest-drafted Jayhawks on Self's watch and will forever be a part of the record-setting 2017 draft class that featured 10 freshmen being picked in the first 11 picks of the draft. The only player who was not a freshman was French star Frank Ntilikina, who was selected No. 8 overall by the New York Knicks.
While the top of the draft went as expected, with Washington's Markelle Fultz going No. 1 to Philadelphia and UCLA's Lonzo Ball No. 2 to the Los Angeles Lakers, the draft really began at pick No. 3, where Boston elected to take Duke scorer Jayson Tatum over Jackson.
Jackson, who said he did not work out for the Celtics because of scheduling conflicts, added that he thought that may have had something to do with him falling to No. 4.
"Maybe a little bit," he said. "But I'm here today, I'm happy and I'm glad to be a Phoenix Sun now."
One other factor people pointed to that may have contributed to Jackson's relative slip was an off-the-court issue, stemming from an incident at a bar that landed him in legal trouble during his freshman season at KU. But Jackson also addressed that during his post-draft meeting with the media in New York.
"I don't think it really represents who I am," he said. "You know, I made a mistake that day. I did. I admitted to it from day one when it was brought up. I think the whole situation was really blown out of proportion, just because I am who I am. Reporters want to make a story and get themselves a name. But everyone who was close to the situation and everyone who I've talked to about it, they know exactly what happened that day. There was nothing that -- it wasn't what it was made out to be. It wasn't as bad as everybody made it out to be. But I have owned up to the mistake I made and I accept the responsibility for it from day one."
While that issue, like his college career, is now behind him, Jackson, to no one's surprise, seems intent on making the Suns look like geniuses for taking him while making the three teams who passed on him regret their decisions.

"Of course I'm going to say I'm the best player in this draft," said Jackson, who will make $4.2 million, $5.0 million and $5.9 million during his first three seasons in the NBA. "But if you ask those other guys, they're going to say the same thing about themselves, I'm sure. But just I love competition, and I love proving people wrong. I've been drafted to Phoenix, and I'm going to go there and I'm going to make the best of it. I'm going to be the best player I can be. And those teams who didn't draft me, one day they will be sorry."