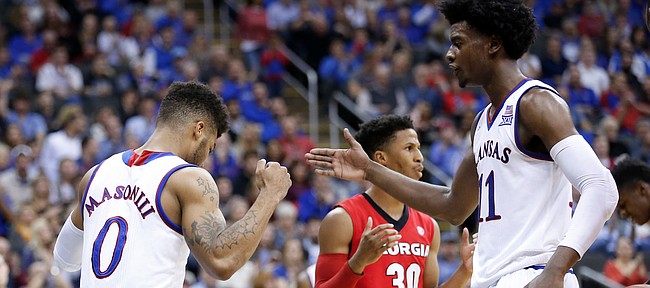 Tonight in New York City, former Kansas basketball stars Josh Jackson and Frank Mason III will find out a little more about their futures than they know when they wake up.
After weeks of workouts, chatter, rumors and speculation, the NBA Draft will get under way at 6 p.m. at Barclays Center in Brooklyn, where 30 NBA teams will make a total of 60 picks, with Jackson and Mason expected to be among them.
While the two former teammates who led the Jayhawks in scoring during KU's run to the Elite Eight last season enter the draft in very different positions — one is a sure-fire lottery pick, the other a likely second rounder — the excitement, anticipation and even butterflies figure to be similar.
Former Kansas guard Wayne Selden knows all too well what each player is going through right now. Last year, after a strong junior season, Selden jumped to the NBA but went undrafted. Despite starting from behind, Selden's rookie season ended in the playoffs, where he made two starts for the Memphis Grizzlies and is taking that momentum into the offseason.
Recently back in Lawrence for the Rock Chalk Roundball Classic, Selden said he thought Mason and, obviously, Jackson were in a much better position than he was at this time last year.
"I think his situation should be better than mine," Selden said of Mason. "National player of the year, he has to get drafted. He got so many accolades and showed he was the best player in the country. ... Best player in the country has to get drafted."
Recent workouts and his showing at the pre-draft combine in May figure to make that the most likely outcome for Mason, who has consistently received a second-round grade in mock drafts while rising up the draft board slowly but surely during the past several weeks. But the way Selden sees it, Mason is worthy of being talked about as a lottery pick.
"That's how I feel," he said.
No one, including Mason himself, is expecting him to climb that high, but the former KU point guard who swept every national player of the year award following his senior season enters his big night with confidence.
"I feel like I accomplished a lot," he recently told Brian Seltzer of @76ers of his pre-draft circuit. "I had 14 workouts so far and a few teams called me back for a second workout, so I feel I did pretty good in that area ... I had a pretty good season and I feel like I brought a lot of momentum into (these) pre-draft (workouts) with the season I had. ... It's been a fun process so far."
While a few hours in the Big Apple tonight will go a long way toward determining Jackson and Mason's futures, it also figures to be a big night for the Kansas program, which, as soon as Jackson is selected, will have produced at least one lottery pick in eight of the past 11 seasons — three times producing two lottery picks in the same year (2014, 2011, 2010).

Whichever team picks Jackson — the rumors all week and month have had him going anywhere from No. 1 to No. 5 — will be ending a two-year KU lottery drought.
The last Jayhawk to be selected in the NBA Draft lottery, which is comprised of the first 14 picks, was Joel Embiid, who was selected No. 3 overall by Philadelphia in the 2014 draft. That same year, Andrew Wiggins went No. 1 to Cleveland, and since then, KU has had three players drafted but none higher than Kelly Oubre, who went 15th to Washington in the 2015 draft.
Since Self's arrival before the 2003-04 season, the Jayhawks have produced 21 total draft picks (14 first-rounders and 7 second-rounders), three top 5 picks (Wiggins, Embiid and Thomas Robinson) and 10 lottery picks (Wiggins, Embiid, Robinson, Ben McLemore, Marcus Morris, Markieff Morris, Cole Aldrich, Xavier Henry, Brandon Rush and Julian Wright).

Self told the Journal-World earlier this week that he planned to be in New York for the draft, when the team that picks Jackson will make it 22 draftees, 11 lottery picks and possibly four Top 5 picks for Self during his first 14 seasons at KU.