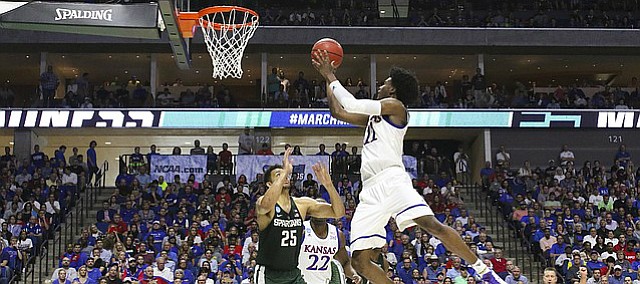 This year's NBA draft makes for a particularly interesting guessing game, thanks to a deep pool of one-and-done prospects and to the presence of a team near the top of the draft closer to contending for a title than is typical for lottery participants.
That team, of course, is the Celtics, headed in the front office by Danny Ainge and on the floor by bright young coach Brad Stevens.
Josh Jackson passing up a chance to work out for the Celtics adds intrigue to the draft, but it doesn't mean they won't draft him, either to keep or to trade.
It sometimes pays to remember what type of a player an executive was to try to determine how he might feel about a specific prospect. Ainge played with fury, a combative spirit, as does Jackson. Ainge and Stevens believe that a key to winning is making the other team uncomfortable when they have the ball. Jackson's good at that.
The fact Jackson's agent didn't facilitate a workout with the Celtics, perhaps because there are clubs that represent easier paths to stardom, won't stop Ainge from selecting Jackson. Yet, the same qualities that make Jackson appealing to the Celtics will make other teams interested in trading for him should the Celtics select him.
It didn't come as a surprise to read that Knicks president Phil Jackson has an interest in obtaining the most productive, versatile one-and-done player in Kansas history.
Phil Jackson coached Scottie Pippen, a fast, slender, 6-foot-8 perimeter player blessed with terrific court vision and defensive instincts. Josh Jackson probably reminds Phil Jackson of Pippen.
Phil Jackson told Knicks broadcaster Al Trautwig that rising young star Kristaps Porzingis is not untouchable.
"We've been getting calls and we're listening," the Knicks executive said on Knicks Night Live. "But we're not intrigued yet at this level. But as much as we love this guy, we have to do what's good for our club."
Porzingis, a 7-foot-3, two-year NBA veteran at the age of 21, averaged 19.9 points and 7.9 rebounds for the Knicks last season. The Celtics could use a skilled big man who could bring a little more balance to their scoring.
Josh Jackson's personality and blue-collar style of play would make him a huge hit in New York, where he would make a nice side income with endorsement opportunities, but he would play for the winning side more often if he played for the Celtics.