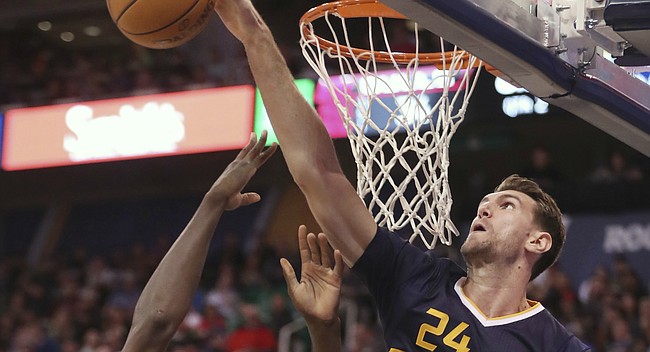 Watch an NBA game these days and, especially in crunch time, you will see more teams than ever leaving their traditional 7-foot centers on the bench, favoring a small lineup instead.
The league is trending toward a pace-and-space, perimeter-oriented game with as many shooters and creators as possible.
So where does that leave a good, old-fashioned rim protector, such as Jeff Withey, the all-time leading shot-blocker (311) at the University of Kansas?
Even though Withey faces a certain degree of uncertainty this summer as an unrestricted free agent, the four-year pro isn't worried the game's evolution will force interior players into extinction.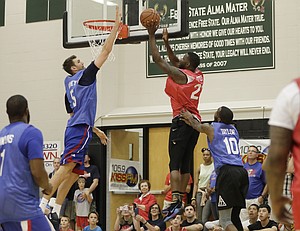 "There's definitely still a role. And my role's a lot different than a lot of guys, just because I'm more of a shot-blocker," Withey said in a recent interview with the Journal-World. "The league is always going to need that. I feel like it is definitely going to a faster pace and I feel like my game fits that, so I'm not worried."
This past season for Utah, Withey only averaged 8.5 minutes and appeared in 51 games. But the Jazz required Withey's strengths less than most teams because its roster also features 7-foot-1 stifler Rudy Gobert, widely considered the best defensive center in the NBA.
Drafted 39th overall in 2013, Withey, an early second-round pick, spent his first two years as a professional as a backup for New Orleans. In 2015, he signed a free-agent deal with Utah, where the former KU big man averaged 3.6 points and 2.9 rebounds the past two seasons. Although his limited role meant Withey only appeared briefly in three playoffs games this past spring, he spoke with enthusiasm about his time with the franchise. The 27-year-old center said he loves Salt Lake City and the Jazz coaching staff, headed by one-time Missouri head coach Quin Synder.
"Free agency stuff, you just don't know what's going to happen," Withey said. "I'd love to go back to Utah but whatever happens happens, and I'm excited for the future."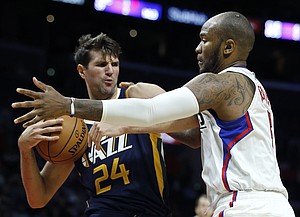 Eager for July 1 and the chance to start negotiating a new contract, Withey's anticipation is fueled by last summer's NBA spending spree. Forget the massive contracts signed by various stars. Even role-playing big men cashed in. Former KU bigs Cole Aldrich (three years, $22 million) and Tarik Black (two years, $12.5 million) were just a couple of examples. The L.A. Lakers gave Timofey Mozgov a four-year deal worth $64 million, the same parameters Washington had for signing Ian Mahinmi. Portland signed Festus Ezeli for two years and $15 million.
A monumental spike in the NBA's salary cap a year ago — roughly $24 million in extra spending room for each team — contributed to the amount of money being doled out to even run-of-the-mill backups. The cap again will increase for the upcoming 2017-18 season, but at a more moderate rate of close to $7 million.
According to Real GM, Brooklyn, Denver and Philadelphia are the only franchises that entered the offseason with plentiful cap space. However, the majority of organizations can maneuver their way to further spending flexibility by renouncing rights to their own free agents, for example.
The market and demand for role-playing centers such as Withey will dictate just how lucratively he can set himself up for his future. The largest contracts for available bigs will go to Nerlens Noel and Serge Ibaka. Further down the NBA's food chain, Withey likely will contend with the likes of Tiago Splitter, JaVale McGee, Roy Hibbert and others, as teams in need of big bodies round out their rosters.
The former Kansas center looks forward to that opportunity.
"Of course, especially with the cap going up," Withey said. "You see guys get paid so much now. There's a lot of opportunity out there and I'm just trying to get mine, you know."
More like this story on KUsports.com