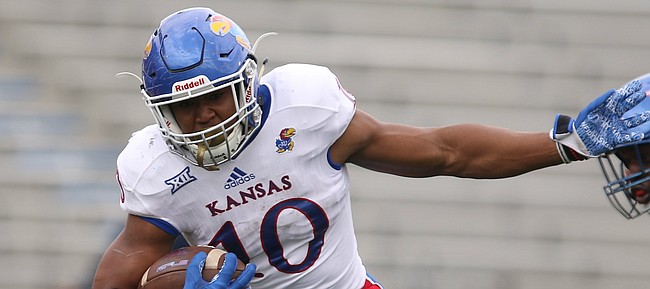 For all that University of Kansas running back Khalil Herbert accomplished in his first season with the program last fall, it didn't come close to leaving him satisfied.
Upon arriving at KU from Coral Springs, Fla., Herbert started his first collegiate game as a true freshman and went on to average 4.3 yards a carry in 2016, while rushing for three touchdowns in eight games.
"I wanted to do a lot better," Herbert said this spring, while reflecting on his debut season.
In retrospect, Herbert now realizes he made important strides as a freshman, particularly by studying video footage to improve his recognition of defenses and learning how to become a better blocker in the backfield. It's just that he planned on contributing more than 44 rushes and 198 yards to the Jayhawks' rushing attack.
"Obviously I wanted to stay healthy," Herbert said, referring to a midseason toe injury that caused him to miss a third of the season (four games). "Just helping my team out more. I feel like I could've done a little bit more. But this year I'm hoping to do that."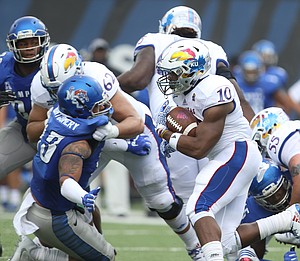 The promising 5-foot-10 back, who produced KU's longest rush of the 2016 season (66 yards for a touchdown in a Week 2 loss at Memphis), returned to play in KU's final two games this past November, following his toe issues. However, running backs coach Tony Hull said Herbert wasn't back to 100 percent at the time.
"I honestly think he did the best he could after the injury," Hull said. "He was a freshman. And along with injuries, not just the physical limitations, it takes a toll on you mentally. But he did a great job persevering through it. I think it's going to be a great learning experience for him going into the competition this year."
When Herbert discusses his first year at Kansas, the topic often gets back to the education that accompanied being one of KU's three featured ball-carriers as an 18-year-old. Heading into his sophomore season, he doesn't feel as naive about all that goes into life as an FBS running back.
"I still can learn stuff every day," Herbert added, "but definitely having that first-year experience helps a lot."
When preseason practices commence in August at Kansas, Herbert will find himself in a battle with junior Taylor Martin, true freshman Dom Williams and junior college transfer Octavius Matthews at running back.
For now, Herbert is keeping his individual expectations for 2017 to himself, but it's clear in his words that playing in all 12 games and making sure KU improves on last year's 2-10 record are among his objectives.
"I got my team goals first," Herbert said, "and then my personal goals second."