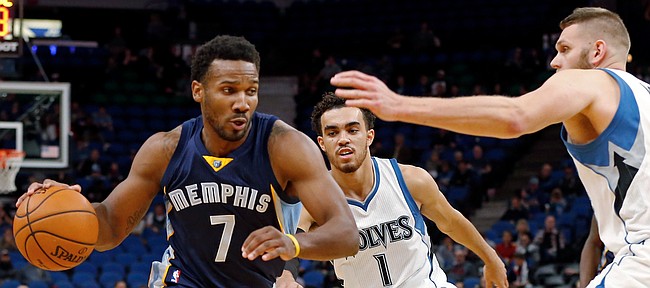 Playing a good chunk of his Kansas career in the shadows of All-American talents like Andrew Wiggins, Joel Embiid and Perry Ellis, former KU guard Wayne Selden put up good numbers, started a ton of games but never was deemed a can't-miss NBA contributor.
That reality hit home hard on draft night 2016, when all 30 teams — and 60 total draft picks — passed on Selden, paving the way for him to start his professional career in the NBA's Developmental League.
Going to the D-League after a three-year stint at a place like Kansas is the equivalent of driving a Mercedes to work each week but hitting the clubs on a Mo-Ped.
As it turned out, that jumping off point — in Des Moines, Iowa for a team known as the Energy — was the best thing that could have happened to the Roxbury, Mass., native and three-year KU starter.
"I think going into the D-League put a chip on my shoulder and I feel like battling through the D-League gave me a lot more confidence overall," Selden said after dazzling the sold-out crowd at last week's Rock Chalk Roundball Classic in Lawrence. "Confidence is at a high right now."
Battling through the D League is one thing. And plenty of good players have started there and later gone on to enjoy quality NBA careers. But few, if any, made the kind of beam-me-up-Scotty journey that Selden made, which not only proved to him that the work and sacrifice was worth it but also contributed greatly to that confidence reaching new heights.
"D-League to the playoffs? It was a roller coaster. It was a wild ride. But it was worth it, you know," Selden said. "Going to the D-League and barely getting to 10 wins and then you're playing against the Spurs. It was a great experience."
Selden, who actually got his first opportunity with the New Orleans Pelicans, played in just 11 games for the Memphis Grizzlies last season before coming out of nowhere to start a pair of games in Memphis' first-round playoff series with San Antonio last month. Injuries contributed to the opportunity, but that's often what professional sports are all about and Selden, like any driven athlete, was determined to make the most of his improbable shot when it came.
Doing so meant doing more than attacking the rim like his life depended on it, showing up on SportsCenter or impressing coaches at both levels, including KU coach Bill Self, who simply called the end of Selden's rookie season, "amazing."
Selden also took advantage of every lesson he could off the court, in airports and on the team bus.
"There was so much (good advice)," said Selden when asked who he leaned on during his wild rookie year. "Just natural, just them talking, veterans like Vince Carter, Z-Bo (Zach Randolph), them just talking and just being who they are is perfect. You learn so much from them."
Learning basketball often is the easy part for guys like Selden. It's learning how to make a career of it that's the most important part and he said he would forever value all of the lessons he learned a season ago after a disappointing start.
What that means for his future — both immediate and beyond — remains a little blurry, but Selden certainly has positioned himself well by proving he belongs in the league.
He'll spend this summer playing with the Grizzlies summer league team and continuing to honor his partial contract the two sides agreed on for 2017. The goal for Selden is to perform so well this summer that the Grizzlies decide to turn that mild commitment into a long-term deal.
"It's going good," said Selden assessing his career trajectory. "I'm just working out down in Memphis right now, just at it and getting ready for summer league. I'll be there for summer league and then we'll see from there."