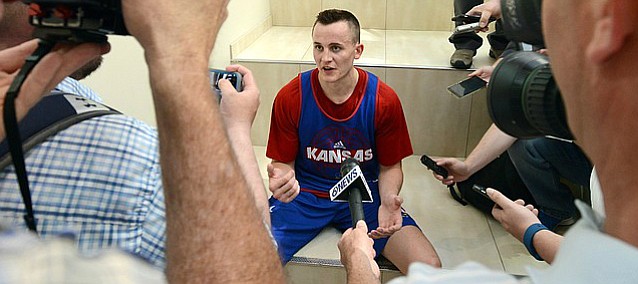 The Kansas basketball team will have nine scholarship players eligible to play in the first nine games of the season, 10 for the rest of the schedule.
That's plenty, but unlike in most seasons, KU will have four, not five, post players: sophomores Udoka Azuibuike and Mitch Lightfoot, freshman Billy Preston and senior graduate transfer Jack Whitman.
Combined, they have played in 49 minutes against Big 12 schools and all the minutes were played by Lightfoot.
An intense competitor, Lightfoot sounds almost like a veteran ex-coach working as a color analyst when he talks basketball with maturity beyond his years, so he was a good one to ask: What are your thoughts on the team's frontcourt depth?
"Obviously, we have (fewer) players," Lightfoot said. "But I feel like coach (Bill Self) knows what he's doing. I mean, over the past couple of years he's won a few games here and there. I feel like he knows what he's doing and the team we have right now, we're going to win some games and our frontcourt's not going to be an issue."
Lightfoot talked about the reasons for his confidence and started with growth he has seen in Azubuike, who played 142 minutes in 11 games before suffering a season-ending injury in practice.
"Not just his basketball but his personality," Lightfoot said. "He's really come out to be a big, vibrant personality on the team. His basketball game, as you see, he's picked up where he left off and if not more, athletic as all get out, and I think he's just going to be a monster this year."
Hearing that from someone who practices alongside Udoka on a daily basis carries a lot of weight.
"He's huge, but he's also quick, athletic and now that he's starting to get spin moves, and up-and-unders and stuff, and shot fakes and stuff, so it's really hard to determine what he's going to do now," Lightfoot said. "It used to be just he was going to take one drop step and jump hook. Now it's drop step, shot fake, go to the other side. He's improved a lot."
Hubie Brown couldn't have said it better.
Lightfoot also broke down his new teammate, Whitman.
"Athletic, tough, willing to learn," Lightfoot said. "I feel like if I was a fifth-year senior I would kind of know what I'm doing by then. He's really willing to learn from coach Self and coach Rob (Norm Roberts). He's been a sponge and that's something you've got to do to perform well at this level."
I see a headset and microphone in Lightfoot's future, but first many minutes playing for KU.