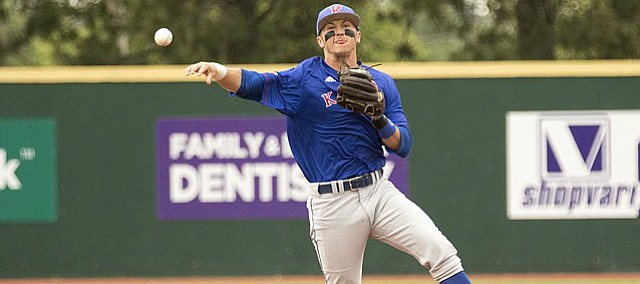 University of Kansas shortstop Matt McLaughlin and Lawrence native Bryce Montes de Oca heard their names called during the third day of the Major League Draft on Wednesday.
McLaughlin, a three-year starter, was drafted in the 12th round (356th overall) by the Colorado Rockies and immediately signed into the organization.
The 6-foot-7, 265-pound Montes de Oca, from Lawrence High, was picked by the Washington Nationals in the 15th round (463rd overall). McLaughlin and Montes de Oca played together last summer in the prestigious Cape Cod League.
"I am absolutely thrilled for Matt," Kansas head coach Ritch Price said in a statement. "With the exception of the two games he missed this season with his wrist, he has played every inning of every game in his three years here. He had an outstanding career and is completely prepared to play at the next level."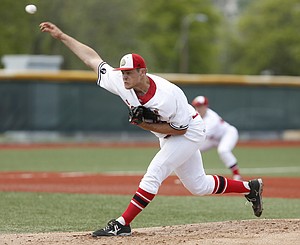 McLaughlin hit a team-best .314 this season with 19 doubles, three home runs and 39 runs batted in. He ranked second in the Big 12 with 19 doubles and 10th in on-base percentage (.420).
Kansas recruit Skyler Messinger, a 6-3 shortstop from Niwot, Colo., was the final draft pick in the 22nd round by the Chicago Cubs.
"Childhood dream came true today!" McLaughlin wrote on Twitter. "Thanks to all who pushed and prayed for this. Excited to start my career with the Rockies."
Montes de Oca, who completed his junior season at Missouri, tossed 61 innings with a 4-5 record and 4.28 ERA in 12 starts. He struck out 61 hitters and walked 42.
The right-hander only pitched 8-1/3 innings during his first two seasons at Missouri because of injuries, including a nerve transposition surgery on his elbow.
Out of high school, Montes de Oca was drafted in the 14th round of the 2014 MLB Draft by the Chicago White Sox.