Triple-doubles in basketball are the ultimate measuring stick demonstrating that a player possesses the kind of all-around game that makes him valuable for his team and a nightmare for opponents to stop.
Oklahoma City guard Russell Westbrook set the NBA world on fire by triple-doubling his way through his first season without Kevin Durant as his running mate. And Cleveland's LeBron James just became the first player in NBA Finals history to average a triple-double for the series. Both players, along with a handful of others in their class, are true triple-threat options who can score, pass and rebound with the best of them.
So, too, could Kansas freshman Marcus Garrett during his senior season at Skyline High in Dallas.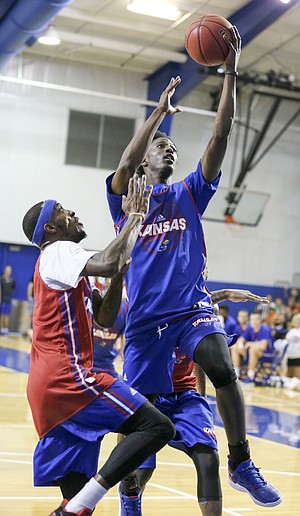 Garrett, who recently arrived on campus after graduating on June 5, averaged 17.3 points, 10.4 rebounds and 9.1 assists during his final prep season, coming oh-so-close to that triple-double mark and proving that a.) he was one of the best players in the state of Texas, and b.) that he was worthy of that scholarship he received at Kansas.
Garrett's opponents did not always agree with that last part. In fact, Garrett recently said he heard anti-KU trash talk throughout the season from opponents trying to get in his head and under his skin. "You're not good enough to play at Kansas," they said. "Man, I should be going to KU, not you," they added. Each time, Garrett just laughed.
"Oh yeah. I heard from a lot of haters during the games," Garrett told the Journal-World during an interview before his arrival on campus. "I just laughed and kept playing. I didn't try to force anything, just tried to win the game."
More often than not, Garrett did that, leading his team to a 34-2 record and an appearance in the Class 6A semifinals. Along the way, the 6-foot-7, 190-pound combo guard delivered 32 double-doubles and 12 triple-doubles en route to being named the Gatorade Texas Boys Basketball Player of the Year.
"I surprised myself a little," he said. "I didn't know my numbers would be quite that good. That (award) just came out of nowhere. I really didn't set any personal goals for the year. I was just playing for team goals. I even told my family at the beginning I didn't think I had a chance to win it. So when I won that award, I was happy."
Garrett credits his early commitment (last August) and signing (Nov. 9, his 18th birthday) with Kansas for at least part of his monster senior season.
"Yeah, that gave me a huge confidence boost," he said. "It gave me a little chip on my shoulder and gave me a little something to play for."
In the days since his 2016-17 season ended, Garrett has focused on two things — becoming a better outside shooter and getting bigger.
He's had success in both areas and said he expects things to really take off now that he has arrived in Lawrence and gets to work with the team and KU's strength coaches on a regular basis.
During his recruitment, Garrett said he bonded most with KU guards Devonté Graham, Lagerald Vick and Malik Newman. Thanks to Graham's decision to return to KU for his senior season, all three of them will be on the roster for Garrett's first season as a Jayhawk, and the young Texan is looking forward to both playing with and learning from that trio of KU veterans during his first taste of college hoops.
"D'Tae's my favorite player," Garrett said of Graham. "I just like the way he plays. I like his energy on the court. I felt all along like he was coming back and I'm glad he did. I'm more excited than anything. I've been ready. Ever since the season ended, I've been waiting to come up there."