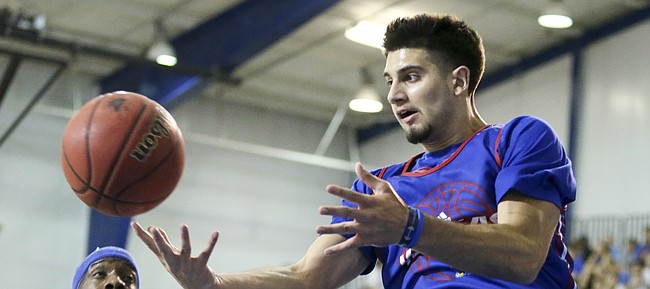 Five months back, when he first arrived at the University of Kansas as a transfer from Arizona State, Sam Cunliffe didn't know for certain how long it would be before he would start to feel at home in Lawrence.
The 6-foot-6 guard couldn't play in games with his new teammates, was a long way from his hometown of Seattle and joined the program at a time when every other player already had a specified role. Cunliffe was just an extra in the background, biding his time.
Although his mid-year relocation from Pac-12 country to the Big 12 means he won't make his Jayhawks debut until the 10th game of the upcoming season, Cunliffe at least finally feels more like a key part of Bill Self's team.
"I'm super comfortable. When I first got here, not at all," the sophomore wing admitted Sunday, during his first interview since enrolling at KU. "I think they make it that way on purpose a little bit — the coaching staff — and just kind of coming to a new place in the middle of the season. But being here from the beginning of the summer, when a bunch of other new guys came, kind of gave me a fresh start and made me feel like there were some things I knew that they didn't. So I kind of felt like I was leading a little bit. It's been a good time for me."
As Cunliffe referenced, the amount of roster turnover since the conclusion of the season means the only rotation players who have been at Kansas longer than him are Devonte' Graham, Svi Mykhailiuk, Lagerald Vick, Mitch Lightfoot, Udoka Azubuike and Malik Newman (another transfer who has yet to play). Cunliffe, having practiced during the spring semester, had a better feel for all that playing at KU entails than incoming freshmen Billy Preston and Marcus Garrett, or the latest transfers to join the program, Jack Whitman, Dedric and K.J. Lawson and Charlie Moore, all of whom are new on campus this summer.
For Cunliffe, a 10-game starter at Arizona State who averaged 9.5 points and 4.5 rebounds before leaving the program, he had to adjust not just to moving halfway across the country, but also to the demands of competing at a powerhouse program.
What caused the wing known for his 3-point shooting (15-for-37 at ASU) and athleticism to revamp?
"Probably just how hard everything is when we play. Just how hard coach (Self) coaches," Cunliffe said, "and the no fouls in practice, no out of bounds. You just have to play hard all the time. It's kind of like a playground-type atmosphere when we're playing. It's pretty cool, too."
Now that he's been around for a few months and the team needs him this coming season, Cunliffe finds himself enjoying everything more. This past January to March, he defined his role as a "practice squad" player, limited to defense.
"Mainly toward the end of practice they would just play offense, I would play defense," Cunliffe said of his contributions. "(Self) would have me guard Josh (Jackson) or whoever, and just trying to help the team. Everything was for the team. I had no role in doing anything for myself, so it was good."
For Cunliffe, all of that, his work this offseason and KU's August trip to Italy are part of a buildup toward his expected first game with the program, Dec. 16 at Nebraska, just a few days after his former ASU team visits Allen Fieldhouse.
It may seem like a long time from now, but Cunliffe realizes it's all part of the process.
"I just try to look at the positive side. I'm just able to work on my game, try to do things, figure out things. The first (nine) games I'll be able to watch things, just observe, so that'll help me so I'll be able to go in there," Cunliffe said. "I think it's going to be pretty crazy just jumping in in the middle of the season, it being my first game and just having to catch speed with everybody else."
More like this story on KUsports.com