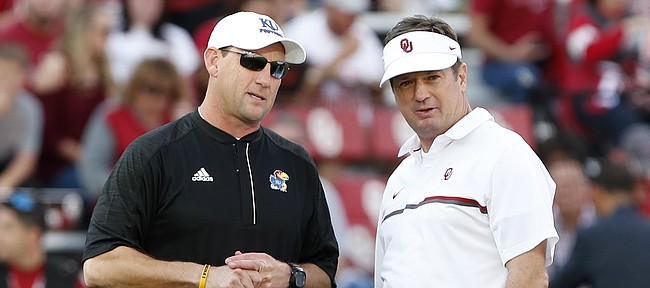 Two banners and one big bummer in a wild eight-day stretch for the Oklahoma athletic department left Sooners fans little time to boast and a great deal of time to scratch their heads.
The OU men's golf team, which finished fifth in the Big 12 championships, two spots behind Kansas, won the national title on Wednesday, May 31.
The following Tuesday the Sooners' softball team capped a 61-9 season by winning its second consecutive national title and third in five years.
The day after that, Bob Stoops issued a statement that revealed he was stepping down after 18 seasons as head football coach of the Sooners. He never used the word retirement. And he created more questions than he answered as to why he made the move. He kept going back to having the right man in place to take over the job, meaning offensive coordinator Lincoln Riley, 33, the older brother of Kansas quarterbacks coach Garrett Riley, 27.
That explains why Stoops believes Lincoln Riley is the right man to succeed him, but doesn't explain why he didn't want the job anymore. It's possible Stoops, 56, never will coach again, doesn't need football as much as it needs him, and wants to enjoy a life with a great deal less pressure. It's just that nothing he said at the press conference would lead one to that conclusion. I watched it online and from that distance it felt a little bit like the two Michael Jordan press conferences when he announced he was retiring from the Bulls. They weren't convincing.
Stoops' father died at 54 of heart failure, which led to the fair question of whether that played a part in his decision. Stoops already had addressed that in his statement: "My health was not the deciding factor in this decision and I've had no incidents that would prevent me from coaching."
He said he didn't want to get too specific about his reasons and added that some of it is personal. If it's personal and not health-related, what then could it be?
Nothing's more personal than family, which got me to wondering what a man known for loyalty would do if, let's say, he felt pressure to replace his brother, Mike Stoops, as defensive coordinator. My guess is he'd quit, the way Kansas associate athletic director Larry Keating, then AD at Seton Hall, did when ordered to fire basketball coach George Blaney.
I haven't read speculation to that effect regarding Stoops and am just using it as an example of something that might make sense.
Whatever the reason or combination of reasons, Stoops didn't sound like a man who absolutely had coached his last football game, a Sugar Bowl victory against Auburn that pushed the Sooners' winning streak to 10 games.
"I really do not have a plan, I mean exactly what I'm going to do," Stoops said at the press conference. "It's a little bit frightening, definitely."
Frightening but not so much so that he didn't step down from a job at which he was terrific into an unknown world.
"I'm a spiritual person and I believe until you open yourself up to something, you don't know what the opportunities are that can come to you," Stoops said. "So we'll see what may flow my way."
For one thing, job offers galore will flow his way. He is the planet's best football coach in his prime not coaching football.
Maybe after a year away from the sideline, one in which he can enjoy watching his twin sons play high school football as seniors, a jump to the NFL would intrigue him.
Or maybe, dare I even say it, coming out of "retirement" as Bill Snyder heads into his second one to return to Kansas State, where he once worked for Snyder, would pique Stoops' interest.