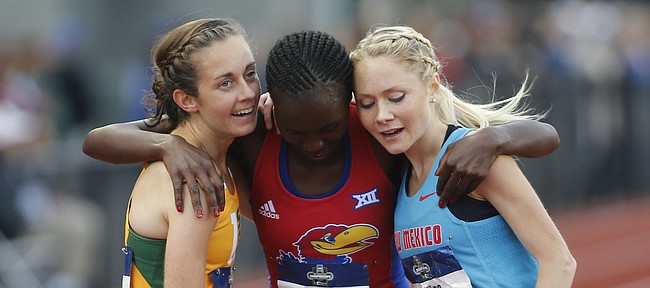 Eugene, Ore. — University of Kansas track standouts Sharon Lokedi and Sydney Conley helped the Jayhawks capture a pair of bronze medals late Thursday at the NCAA Outdoor Track & Field Championships.
Conley closed out her collegiate career with a third-place finish in the long jump, while junior Lokedi took third with a school-record run in the 10,000 meters.
After separating themselves with just under 1,200 meters remaining, Lokedi, along with San Francisco's Charlotte Taylor and New Mexico's Alice Wright, held a 10-second lead over the rest of the field and were picking up the pace. Of the three left in contention it was Taylor that had enough to ou-tkick the other two over the final 800 meters. Lokedi made sure her top-three finish was safe though, turning in 77- and 75-second splits to close out her race.
"I was just trying to hang in there and have a good kick," Lokedi explained of the final laps. "I wanted to keep getting faster and faster each 100 meters and keep up with the leaders."
The finish gave Lokedi first-team All-America status for the second time in the 10,000 meters, and made her the 15thJayhawk female to earn All-America honors multiple times in a single event.
Conley, a two-time Big 12 Champion, had tallied seventh and fifth-place finishes, respectively, in her previous two appearances at the NCAA Outdoor Championships, in 2014 and 2015, but saved her best for last at Hayward Field on Thursday.
"I wanted the gold and I know I was capable of getting it, but today just wasn't the day," Conley said. "I've come a long way to get third at this meet. It's my highest finish since I've been coming here so I have to look at that as a positive."
Conley's outing marked the fifth time since 2012 a Kansas female has posted a top-three finish in the long jump at the NCAA Championship meet. It also made her just the fifth Jayhawk female to earn First Team All-America status in a single event three times.