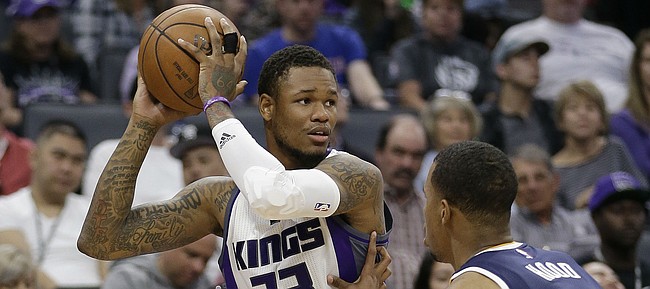 Former Kansas standout Ben McLemore played during Thursday night's Rock Chalk Roundball Classic charity game at Free State High like the entire NBA world was watching.
A restricted free agent and former lottery pick who spent his first four NBA seasons with the struggling Sacramento Kings, McLemore poured in a game-high 32 points at the ninth annual fund-raiser and did so in a way that showed anyone watching that he still had all of the skills that made him a star at Kansas during the 2012-13 season.
"That's what I do," McLemore said after the game. "Score the ball, shoot the ball and I've been working on my game every day and getting better each and every day. Obviously, you guys have seen what I can do, and hopefully everybody around the world and the league knows what I can do, too."
Photo Gallery
2017 Rock Chalk Roundball Classic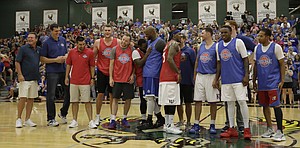 Images from one of the biggest and most competitive Rock Chalk Roundball Classic contests in the nine-year history of the event, which is held annually as a fund-raiser for families of local children battling cancer. The game also proves to be one heck of a reason for former Jayhawks of all generations to get together for a giant reunion and the 2017 version featured the biggest turnout yet.
Still prominently featured throughout KU's freshmen record books, McLemore is second all-time in single-season scoring for a Kansas freshman (589 points), second in points per game (15.9), first minutes played (1,191) and games started (37), first in free throw percentage (87), fifth in 3-point percentage (42) and eighth in rebounds (192).
With NBA averages of 9.4 points, 2.6 rebounds and 1.2 assists in 25.5 minutes per game, McLemore has spent his first few professional seasons floating on the fringe between NBA starter and role player. His best single-season numbers to date came in his second season, when he started all 82 games and averaged 12.1 points and 32.6 minutes per game for the Kings that year. He has started 216 of the 283 games he has appeared in, but has yet to consistently make that undeniable statement that he's on his way to becoming a star.
From McLemore's perspective, that time is coming. And even though he is not yet certain what city he will call home in Year 5, he is confident in his own abilities and believes that the summer ahead will be the most important of his career.
"Absolutely," he said when asked if he felt poised to take his game to a new level. "I'm ready. And I'm gonna be dedicated this summer to lock myself in the gym and give it my all and work my butt off."
As for what areas beyond his own hard work might have the biggest impact on what comes next for the former Jayhawk, McLemore did not hesitate to offer his thoughts.
"Opportunity," he said. "Being in the right situation and going out there and doing what I gotta do."
Thursday night, McLemore was in the perfect place to have some fun and he delivered exactly what the event that raises money for children battling cancer needed.
"That's why I come every year," he said. "This means a lot to me. Not just playing the game, but coming to see the fans and the kids and just my brothers. It's always good to come back."
Moore to USA tryout
New Kansas point guard Charlie Moore, a transfer from Cal who will sit out the 2017-18 season, has accepted an invitation to compete at the 2017 USA Basketball Men's U19 World Cup Team training camp June 18-25 at the United States Olympic Training Center in Colorado Springs, Colorado, KU announced Thursday.
Twenty-eight current college players were invited to the tryout and 12 will make the final roster to compete for Team USA at the U19 FIBA World Cup July 1-9 Cairo.
"We always encourage our guys to participate with USA Basketball and certainly hope Charlie fares well during the tryout," KU head coach Bill Self said in a release.
Kentucky coach John Calipari will lead the USA U19 World Cup Team with former KU players Tad Boyle, from the University of Colorado, and Danny Manning, of Wake Forest University, serving as assistant coaches.
Staff restructuring
With Senior Woman Administrator Debbie Van Saun set to retire later this year after 10 years of service to KU, Kansas athletic director Sheahon Zenger on Thursday announced a couple of staff moves to fill the void.
Zenger has promoted Nicole Corcoran, Associate Athletics Director for Operations, to Senior Associate Athletics Director/Senior Woman Administrator, effective July 1.
Zenger also announced that Etienne Thomas, currently Senior Associate Athletics Director for Internal Operations at North Carolina Central University, will join KAI as the Associate Athletics Director for Student Life.
"I'm really looking forward to Nicole and Etienne assuming these roles," Zenger said in a news release. "I know that their experience and dedication will greatly benefit our coaches and student-athletes."
More like this story on KUsports.com