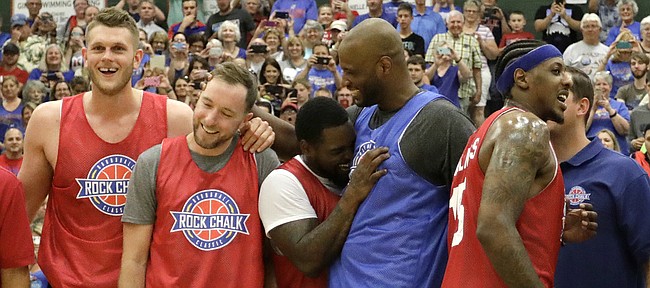 Sometimes, when Sherron Collins makes the trip from Chicago to Lawrence, the former University of Kansas basketball star brings along with him some old gear from his college playing days.
The Morningstars, former KU teammate Brady and parents Roger and Linda, Collins says, are like a family to him. So much so, in fact, that he even keeps some of his more "personal and important" belongings with them.
In town this week to play in Thursday night's Rock Chalk Roundball Classic at Free State High, Collins had in his car one of his old Kansas jerseys, which he planned to deposit in his Morningstar trove.
But when he heard KU play-by-play announcer Brian Hanni, organizer of the annual fundraiser for Kansas families battling cancer, auctioning off items at halftime of the event, Collins got another idea.
Photo Gallery
2017 Rock Chalk Roundball Classic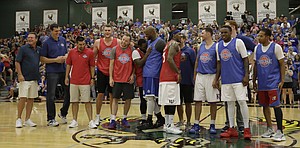 Images from one of the biggest and most competitive Rock Chalk Roundball Classic contests in the nine-year history of the event, which is held annually as a fund-raiser for families of local children battling cancer. The game also proves to be one heck of a reason for former Jayhawks of all generations to get together for a giant reunion and the 2017 version featured the biggest turnout yet.
The former all-American went and let Hanni know: "I've got a jersey if you want it, and it's game-worn."
The prized apparel quickly sold for $500.
"I was like, 'Wow,'" Collins said of the going price. "Old guys still get that love."
Obviously, he didn't mind parting with the keepsake.
"I was just going to put it up," Collins said, "but it'll be for a better cause for this."
Collins is a regular participant in the exhibition, and estimated he only has missed one. Including the charity component, there are plenty of incentives, he added, to make it a regular part of his calendar.
"We get to see each other. That's the thing that's pretty sweet. Everybody, we're from different teams, different ages, but it's like a brotherhood. And then we get to see the coaching staff," Collins began. "And the fans, I think we all want them to know that we appreciate them as well as they appreciate us. I think that's why we come back so much. Just to show the love back, because it means a lot to us."
This year's rosters featured even more big names within the KU universe than usual, with Mario Chalmers, Jeff Withey, Wayne Selden Jr., Perry Ellis and Drew Gooden joining regulars such as Collins, Cole Aldrich and Ben McLemore.
"I feel like this was the best year," Collins said after scoring 18 points for the winning Crimson team in the exhibition. "We're all just grown up and we're realizing that it's time to give back to a place like this and where we started."
Almost 10 full years removed from the 2008 national championship, Collins and several other members of that memorable team have had multiple opportunities to reminisce the past few days in Lawrence. And every member of the title squad in attendance — head coach Bill Self, Collins, Darnell Jackson, Chalmers, Tyrel Reed, Russell Robinson, Jeremy Case, Sasha Kaun, Brennan Bechard, Aldrich, Morningstar, Matt Kleinmann and Brad Witherspoon — posed together for a photo at the annual fundraiser.
"It was kind of surreal," Collins said. "You don't see your brothers for a certain amount of time and some people go overseas, so you don't even get contact with them. It's always about catching up and it's good to see that they're doing good."
Though he was most excited to hang out again with Robinson and Chalmers, Collins said seeing Gooden, Withey and many others all made this reunion stand out.
"Me and Cole got a special bond and Brady's my best friend, so those guys are probably at the top of my list," Collins said. "But that national championship team, that's a special visit."