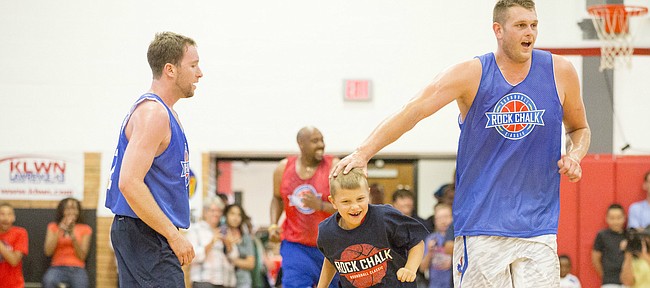 Forever appreciative of all of the support he has received from dozens of current and former Kansas basketball players, Rock Chalk Roundball Classic founder Brian Hanni has a special spot in his heart for the contributions of one former KU standout.
"If there's one guy who I can call up and say, 'Hey, man, this little girl's going through a tough time and could really use a pick-me-up video right now,' it's Cole Aldrich," said Hanni ahead of Thursday's ninth annual Roundball Classic, set for 7 p.m. at Free State High. "And he'll fire it back to me in two minutes."
Having given his time, skills and smile to the game since the beginning, the current Minnesota Timberwolf and seven-year NBA veteran has always made it a priority to attend the game and, more importantly, to extend his services beyond running up and down the floor for a night of laughs.
From interacting with the beneficiaries themselves — of which, this year, there will be five, all Kansans, all under the age of 11, all battling cancer — to their families and the hundreds of KU fans who pack the gym to see some of their old favorites, Aldrich has shown from the outset that the Rock Chalk Roundball Classic is as important as any of the many charity events he and his wife, Britt, participate in year after year no matter in which city Aldrich may be playing at the time.
Just recently, the Aldriches returned from a trip to Peru, where they worked with Starkey Hearing Foundation to provide hearing aides for the needy. They took a similar trip to Mexico in 2015.
"Cole's here every year and he's the one player who beats the drum the loudest for this cause," Hanni said. "I just think he's got a really huge heart. I always joke that he's got a heart bigger than his 7-foot-4 wingspan. And it's the truth."
While dozens of other former Jayhawks also have given their time, money and heart to Hanni's cause, the first-year voice of the Jayhawks and Topeka native said being able to count on a current pro and one of KU's all-time greatest centers to be a part of the event year after year has been a huge advantage in both executing and growing the game.
"He's a guy that gets it in terms of realizing the magnitude of his platform and his position of influence, and he utilizes that every chance he gets," Hanni said. "He's a guy who will always pay his own way, will always give an interview, will pick up his phone and send an inspirational video to one of our beneficiary kids. If they're in a hospital bed going through chemotherapy and they just need a little boost, that's Cole."
Beyond the good of giving and the important value tied to both his dollars and his interactions with the beneficiaries and their families, Hanni said the opportunity for these young warriors — many of them small and frail because of their battles — to clown around with a 7-footer like Aldrich provides a lasting memory.
"That larger-than-life presence that he has and the magnitude of that is a big part of the experience for the kids and for Cole, too, I think. He's really been that guy for us since Day One, and we're so appreciative of everything he's done for this event and, of course, as a representative of Kansas basketball."