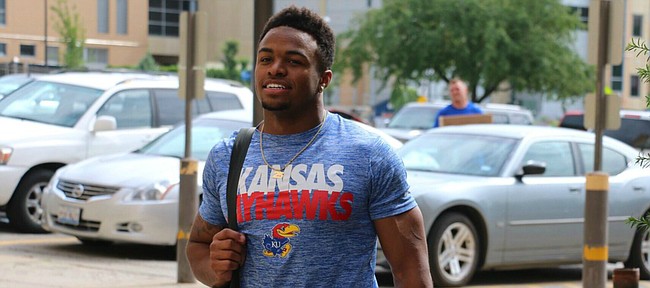 Before incoming freshman Dom Williams left Texas behind this past weekend to begin his college football career at the University of Kansas, the four-star running back had one last thing to do Saturday: snag his diploma at Independence High's graduation ceremony.
Williams' move-in day at KU was slated for the following morning, but the biggest name in head coach David Beaty's 2017 recruiting class pulled off back-to-back days of monumental life moments with the help of his father, Damien, who drove through the night to get Dom to Lawrence.
"I'm usually asleep in the car, so it's not that bad," KU's newest running back said in a phone interview with the Journal-World, ahead of the roughly seven-hour trek as a snoozing passenger.
Sure enough, Williams and other freshmen arrived at their new home Sunday, ready to get to work — not that Williams had been taking it easy since rushing for 1,922 yards and 28 touchdowns in his senior season at Independence.
While spending some of the past several months running relays and in the 200-meter dash for his prep track team, Williams said he also spent plenty of time with a trainer, trying to improve his football speed and route-running as a receiver, while also attacking the weight-lifting regimen KU sent to him.
"I'm just trying to get all-around faster, bigger, stronger and more versatile," Williams said this past week, adding he's currently at roughly 5-foot-9 and 193 pounds.
According to the freshman running back, he has put on about 10 pounds of muscle since the conclusion of his 2016 season, which he credits to the challenging weight program. Williams said the most difficult lifts for him were the snatch and clean, both new to his repertoire — "Which is also good, because it's more explosive lifts," he added.
The promising young back knew he had to show up at KU ready for new strength and conditioning coach Zac Woodfin's workouts.
"We get right to it," Williams said.
And he didn't need anyone to remind him how important these offseason weeks to come will be for him and other true freshmen — such as his new roommate, Derby's Kenyon Tabor — before preseason practices begin in August.
"It's just about being responsible enough to know you can't be fooling around after (high school) football season, just waiting 'til you get up there to start working out again," Williams said. "It's pretty much on us."