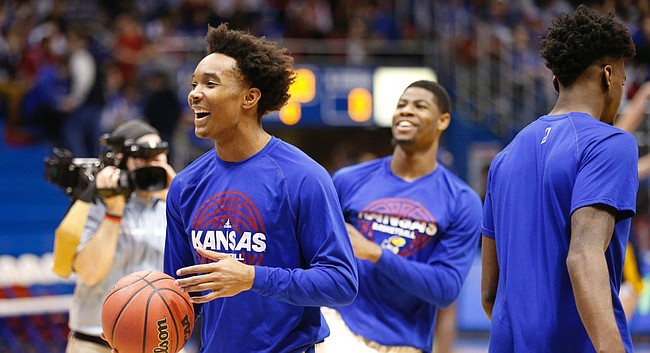 During his three-plus seasons as a Jayhawk to date, Kansas guard Devonté Graham has become accustomed to looking around the KU basketball facilities and seeing at least a few familiar faces suiting up next to him.
Sunday afternoon, however, at registration and check-in day for this week's Bill Self Basketball Camps, Graham saw and experienced a whole bunch of new faces.
Gone are former running mates Frank Mason III, Landen Lucas, Carlton Bragg Jr. and Dwight Coleby. In to fill their shoes, instead, are a handful of transfers and fresh-faced freshmen who will make up the 2017-18 Kansas basketball roster.
While Graham still will have a few familiar faces running with him, the senior-to-be admitted that the new-look roster would take some getting used to.
"It's definitely going to take a while because it's not like we've just got two or three new players coming in that can just see what everybody else is doing," Graham told reporters after an autograph session at check-in. "We've got a whole new half."
Like the rest of his teammates, Graham is set to start summer school on Tuesday. And while the influx of new faces will be different, Graham said he was looking forward to having all of the newcomers in town.
"A lot of them can't play," he said, noting that Memphis transfers Dedric and K.J. Lawson, along with Cal transfer Charlie Moore, will have to sit out in accordance with NCAA transfer rules a la Malik Newman a season ago. "But they've got to learn what coach likes and the system and stuff like that. So it's just basically learning everything over again and teaching them the Kansas ways."
While that trio will not be eligible to play when the season rolls around, freshmen Marcus Garrett, Billy Preston and walk-on Chris Teahan, along with graduate transfer Jack Whitman, will be eligible during the 2017-18 season. Graham said the combination of both soon would become comfortable, with everyone in crimson and blue working toward the same goal.
"I don't think it's going to affect us," he said. "If anything, it's going to make us better. We picked up the (Lawson) brothers. Charlie, Jack can play. He's going to help us this year. And those guys are going to make us better, just competing against them every day throughout the season and this summer."
As for Graham himself, he said his two and a half week trip back home to Raleigh, N.C., between the end of the spring semester and the start of summer school was good from both a personal and basketball perspective.
Most of his time was spent with friends and family and playing and working out at North Carolina State.
"I rested after we lost for about two weeks," he said. "At home, it was the same thing I was doing here, playing at NC State and lifting and doing some fitness stuff."
While that proved to be a nice break from his routine in Lawrence, Graham said he was ready to move forward with his final season as a Jayhawk.
"We've got a good group here," he said. "First day together as a whole, although we're still missing Marcus, but I'm just happy to be back, play some pick-up with them and get ready for Italy."
The Jayhawks will work with campers, play pick-up games and run through lifting and conditioning exercises for the next two weeks, all with an eye toward their exhibition trip to Italy in early August.