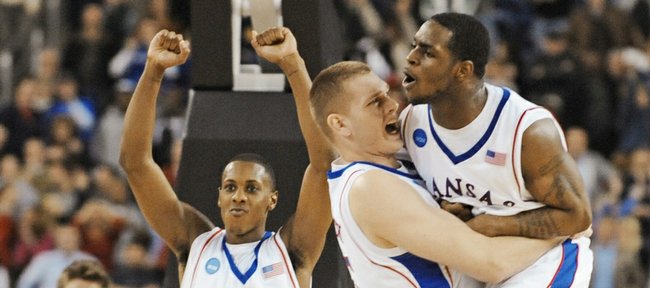 Thursday night, on Lawrence's west side, first-year voice of the Jayhawks Brian Hanni will host his ninth annual Rock Chalk Roundball Classic at Free State High.
As always, this year's charity game will be played to raise money for the families of five children, ages 11 and under, who are battling cancer. But this time around, it will have a secondary purpose as well.
"We made it our goal to get as many members of the 2008 national championship team as we could because, in our mind, this is kind of the kickoff of their 10-year reunion year coming up here," Hanni said. "Brandon Rush won't be able to make it and neither will Darrell Arthur. But other than that, just about everybody who was on that roster will be at this year's game, which we obviously think is a pretty cool deal."
Sasha Kaun will be driving in from Denver. Sherron Collins will be driving down from Chicago, and Cole Aldrich from Minneapolis. Russell Robinson is expected to come from his native New York, and Mario Chalmers will be flying in from Houston. Darnell Jackson will be back in the game for the first time since its second edition back in 2010.
Among the handful of former Jayhawks who will be making their Rock Chalk Roundball Classic debuts next week are Drew Gooden, Jeff Withey and Wayne Selden.
Slated for a 7 p.m. tipoff, the game has become one of the biggest annual gatherings of former KU players from all generations, and this year's contest is expected to be bigger than ever.
In all, a whopping 50 people who have some kind of connection to Kansas basketball are expected to participate in this year's event. That's a dozen more than the previous high.
"It's not just about the quantity, though," Hanni said. "While 50 is a terrific number, we feel the quality of this year's event is better than it's ever been, too."
Over the years, Hanni has continued to pour his time, heart and soul into the Rock Chalk Roundball Classic, even during the four years he worked as the play-by-play announcer for Texas Tech before returning to Kansas. And what makes this year's event even more special for the Topeka native is the fact that some of the legwork behind extending the invitations to former KU basketball players actually took care of itself, he said.
"What's really neat is that the game's grown to a point now where we have guys calling us up asking if they can come back and play," Hanni marveled. "Christian Moody's bringing his son to coach Self's camp and he called to ask if he could lace 'em up and give us five minutes. Mario Chalmers reached out asking if he could come back. Of course, the answer was yes. He'll be a headliner."
Each year, the event has been a huge success, raising thousands of dollars for families in need. Also important are the smiles and laughs it provides for youths going through some pretty tough times.
Hanni said he appreciates how generous so many former KU greats have been with their time to make the event what it is.
"I think these guys want to be a part of this because they a.) have a heart for the cause, but b.) they also realize it's a pretty cool way to reminisce with their former teammates and then engage and interact with guys they didn't play with but get a chance to in a format like this," Hanni said. "We've got some other fun things planned for them this year that will really make it a great thing to be a part of, and I'm ready to get it rolling."
Tickets are $10 apiece and are still available at 23rd Street Brewery, AAA on Wanamaker in Topeka, KC Soda Co., at Legends and at Free State High on game day. Doors open at 5:30 p.m. And the game tips off at 7.
2017 Rock Chalk Roundball Classic rosters
Blue team coaches:
Bud Stallworth
Roger Morningstar
David Johnanning
Sasha Kaun
Brandon Schneider
Brad Witherspoon
Matt Kleinmann
Blue team players:
Jeff Hawkins
Russell Robinson
Jeff Withey
Jeremy Case
Tyshawn Taylor
Tyrel Reed
Kenny Gregory
Tyler Self
Carolyn Davis
Christian Garrett
Ben McLemore
Jeff Graves
Darnell Jackson
Chris Zerbe
Perry Ellis
Brandon McAnderson
Crimson team coaches:
Calvin Thompson
Alonzo Jamison
David Lawrence
Brennan Bechard
Ray Bechard
Jeff Gueldner
Patrick Richey
Lafayette Norwood
Crimson team players:
Drew Gooden
Wayne Selden
Sherron Collins
Brady Morningstar
Billy Thomas
Mario Chalmers
Mario Little
Wayne Simien
Stephen Vinson
Elijah Johnson
Nick Bradford
Christian Moody
Natalie Knight
Hunter Mickelson
Mark Randall
Cole Aldrich