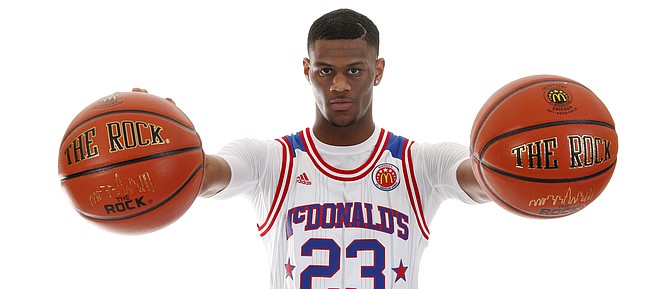 With the arrival of June, all eyes in the Kansas basketball world begin to shift to the incoming crop of new Jayhawks, many of whom will land in Lawrence this weekend, in time for Bill Self's youth camps, summer workouts and whatever other welcome-to-college-basketball adjustments the powers that be at KU choose to throw at them.
For a program that has welcomed such high-profile players as Andrew Wiggins and Josh Jackson in the past four years, the incoming 2017 class lacks sparkle.
That's not to say that forward Billy Preston, combo guard Marcus Garrett and four Division I transfers — only one of which will be eligible in October — will not add a lot and play important roles for the Jayhawks.
But while Garrett might wind up being the next Devonte' Graham and William & Mary transfer Jack Whitman could follow in Tarik Black's footsteps, human nature — particularly with KU fans — tends to take people's attention to the highest-rated player on the board. In this case, that's Preston, who finished his prep career at Oak Hill Academy ranked as the 10th best player in the Class of 2017 by Rivals.com.
Unlike Wiggins and Jackson, Preston does not carry with him the automatic assumption that he'll be a one-and-done Jayhawk.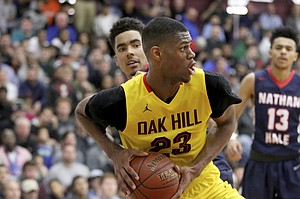 "Talent-wise, he could definitely be that," KU assistant coach Kurtis Townsend recently told the Journal-World. "His issue's always been, he's switched so many schools and he'd never really had great coaching until he went with Steve Smith (at Oak Hill) so he's never really been held accountable for how he plays. The ball sticks sometimes with him and it's, 'Let me see if I can go one-on-one.' With coach (Self), if he gets the ball and he can't shoot it, pass it or drive it, he's gotta get rid of it. So that's something he'll have to learn and (who knows) how long it will take him to learn how to play."
That mentality won't fly at Kansas and no doubt will lead to much more bench time than court time for Preston.
Townsend knows this. And Preston claims he does. The key question entering the summer will be how closely Preston's expectations match up with the reality of the journey which he's about to take.
"It just depends on how long of a learning curve there is for him and how well he takes coaching," Townsend said. "I told him, 'I'm interested to see how you react when coach (gets on you) the first time. Are you gonna quit and pout?' And he said, 'No, no, that's why I came there. I need that.' They say the right things but until it happens you just don't know. The (Morris) twins said that too and they fought it or they could've gone (pro) earlier. They ended up being great players, but it took 'em three years to figure out, 'all right, we ain't gonna fight him.'"
One of the things Self, Townsend and Rivals all liked about Preston were his physical gifts.
"He's got an NBA body already," Townsend said.
And that's both a good and a bad thing for the incoming freshman, who, according to a source with knowledge of his status, should be good to go in terms of eligibility when he arrives on campus.
Good because his potential is off the charts and his versatility will be a luxury for Kansas that approaches the way Jackson was used last season.
Bad because it remains to be seen if the KU coaching staff's high demands and expectations from Day 1 will be something the 6-foot-10 forward can handle or if it will inhibit the steady progress required to make a serious splash.
"With his body and his athleticism and his skill set, that kid, if he wanted to, could average a double-double," Townsend said. "But I don't know if he'll do it because we're gonna have to kick his butt to go to the glass every time. I would say to him (after high school games), 'Dude, 6-10 and you had three rebounds? Go get 10 rebounds.'"
Regardless of how much talent Preston possesses, how long it takes him to figure everything out and what his overall impact on the 2017-18 team actually winds up being, Townsend made it clear that the Jayhawks were glad to have him.

"I think he'll be OK," Townsend said. "Could he be one-and-done? Yeah. Will he be? It just depends how long it takes him to figure it out. It could take 'til Christmas. The advantage he has, though, is we're going on this trip to Italy (in early August). So he'll be a little bit ahead of the game. But the second game of the year against Kentucky he might look lost. And people might say, 'Oh, he wasn't as good as you thought.' But we'll be able to tell by January, once league play starts, if he'll be a guy who could (leave early)."