A woman accused of picking a fight with a University of Kansas basketball player she was dating last winter must perform community service and take an alcohol class as a result.
Saleeha Soofi, who had been charged with one count of battery, was granted a diversion in Douglas County District Court.
The diversion agreement, filed in late April, says Soofi, 19, must abstain from using alcohol and "recreational drugs," submit to monthly drug and alcohol testing, complete "Alcohol Information School" through an approved agency and complete at least 30 hours of community service by October. The agreement also orders her to have no contact, direct or indirect, with the victim in the case.
The victim is Carlton Bragg Jr.
Bragg was a 6-foot-10, 240-pound, 20-year-old sophomore on the basketball team at the time. Soofi also was a KU student, though she was no longer listed as enrolled the following semester.
Soofi and Bragg got into an altercation the morning of Dec. 9 at a party at the Delta Upsilon fraternity house, 1025 Emery Road.
The incident was reported to Lawrence police shortly afterward and, the same day, Bragg was arrested and charged with one count of battery against Soofi. According to initial reports, Bragg punched a woman in the face and pushed her, causing her to fall on some stairs.
But a few days later, the charge against Bragg was dismissed and Soofi was charged instead, on Dec. 14.
The Douglas County District Attorney's Office said review of surveillance video prompted the turnabout.
Soofi allegedly pulled Bragg into a stairwell, accused him of cheating on her, shoved him in the chest several times and twice put her hand on his neck and pushed him against the wall, according to an arrest affidavit, obtained later by the Journal-World.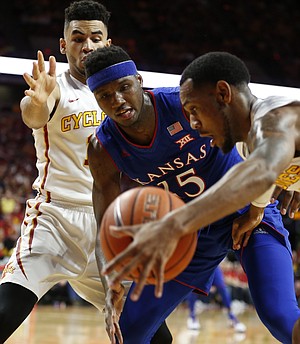 Bragg stood against a wall with his hands in his pockets for much of the encounter, according to the affidavit. After some time "being punched or shoved by Soofi," he shoved her and she fell backward onto the steps, the affidavit said.
Bragg was suspended for KU's Dec. 10 basketball game against the University of Nebraska, but reinstated after the charge against him was dropped. He has since left the team; Coach Bill Self announced in April that Bragg would leave KU with the intention of transferring in the off-season. In May, it was reported that Bragg intended to transfer to Arizona State University.
Under the court's agreement with Soofi, if she successfully completes the terms of the one-year diversion, the battery charge against her will be dismissed.
Have a tip or story idea?
---
More stories